4 Paws 4 Wheels
4 Paws 4 WheelsNatasha Attwood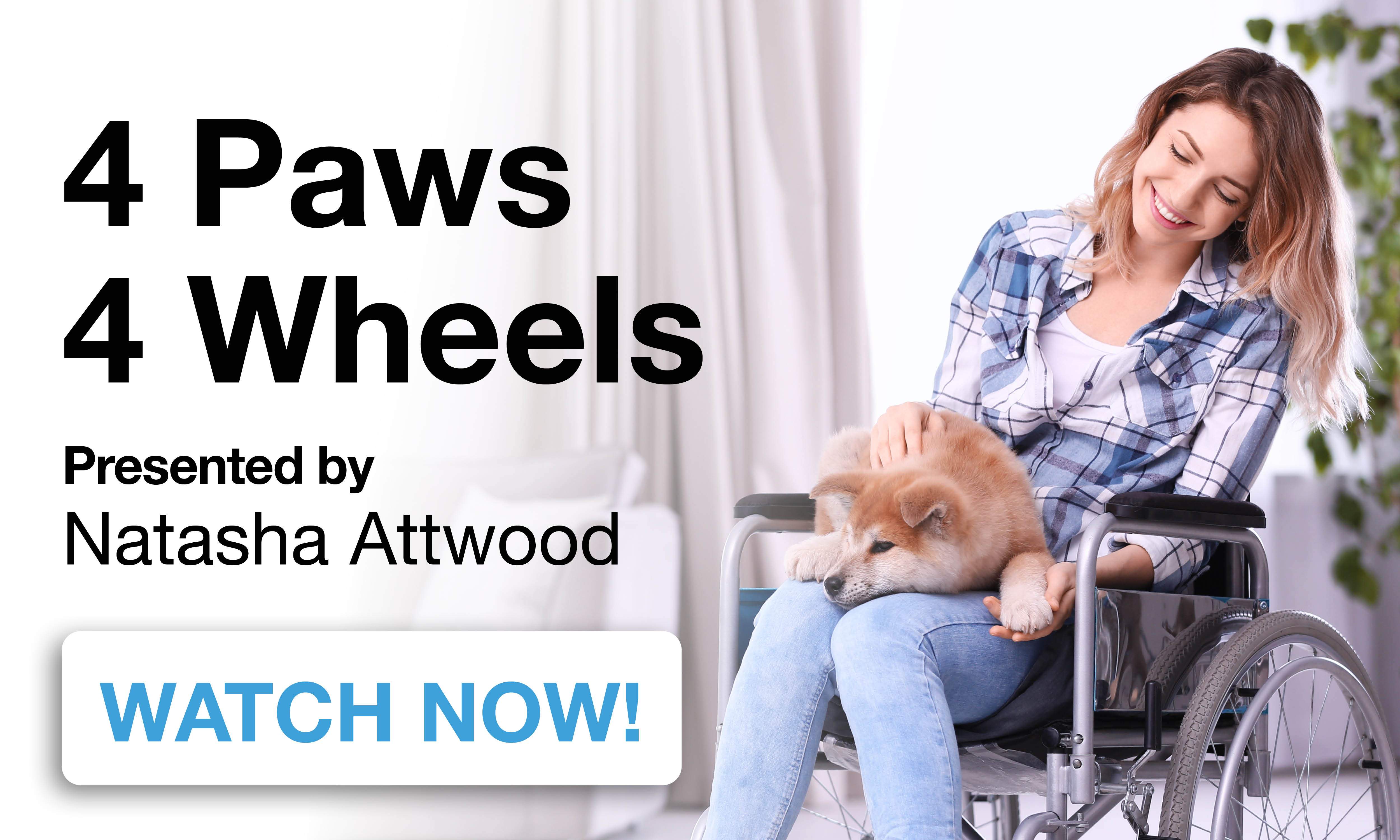 Event Details

Original Air Date: 23rd July 2021
This webinar will look at inclusivity for wheelchair users and those with additional needs, both trainers and clients. It will explore how we can meet these needs and support our clients and colleagues by being as inclusive as possible. The webinar will also discuss handling skills from the point of view of a wheelchair user and how to approach a client in assisting them with handling in speaking to them in a way which will not make them feel uncomfortable. Natasha will talk about mental health and the importance of support for those with additional needs and compassion, to maintain a supportive ethic towards all with individual needs.
Presenter Bio: Natasha Attwood runs Miyagis Dog Training and Behaviourist Services based in Lincolnshire. She lives with Diesel, a Spaniel Mix, and three Wolfdogs, Koda, Django and Zombie. Diesel is an Owner Trained Assistance Dog and Koda is an Assistance Dog in Training. Tasha is an IntoDogs Approved Dog Trainer and Behaviourist, ICAN, PPG, DTC, ISCP, DWA, ATA, CMA, KAD (Kids around dogs), PPG (Pet Dog Ambassador Instructor and Assessor), Deaf Dog Network, and the Assistance Dog Training and Education Support Network and many more.
She is also a DMWYD Triple Crown Instructor Trick, Canine Conditioning and Stunt Dog Judge, Dog Parkour UK Instructor and Assessor, Canine Hoopers World Instructor and Assessor, DTC Approved Instructor, Canine Rally Instructor, Fun Dog Agility Coach, Scentwork Instructor, Nutrition Advisor, UK Disc Dog Association Instructor and Judge, approved Assistance Dog Network and Education Instructor, Canine Body Language and Puppy Specialist and more.
Tasha specialises in Reactivity and Aggression through her behaviour work as well as being a Canine Body Language and Puppy Training Specialist, working with deaf and blind dogs. Tasha works to raise awareness of the training abilities of wheelchair users and disability awareness – she does this though making dog training tutorial videos on YouTube and other social medial platforms to make teaching accessible for as many as possible.
Tasha also runs the Miyagis Dog Training Community group on Facebook which encourages both Trainers and Owners to train their dogs everyday, as well as special guest Trainers hosting monthly challenges.
Tasha mentors Trainers and upcoming Behaviourists in the industry from various backgrounds and specialities across the UK, offering support and guidance in the development of individuals based on their journey.
The recording will be available straight after purchase. You will also receive a link direct to the webinar replay in the purchase confirmation email.
Please note: APBC and SPEAKERS CANNOT BE HELD RESPONSIBLE FOR ANY TECHNICAL FAILING IN THE RESULTING RECORDING. Purchases of webinar recordings are not refundable.
Time

Year Around Event (2022)
Organiser
THE ASSOCIATION OF PET BEHAVIOUR COUNSELLORS LTD is a company registered in England and Wales with company number 09075813, VAT number 366417775
info@apbc.org.uk
50 Princes Street, Ipswich, IP1 1RJ