A Dogs Nose Knows
A Dogs Nose KnowsDr Claire Guest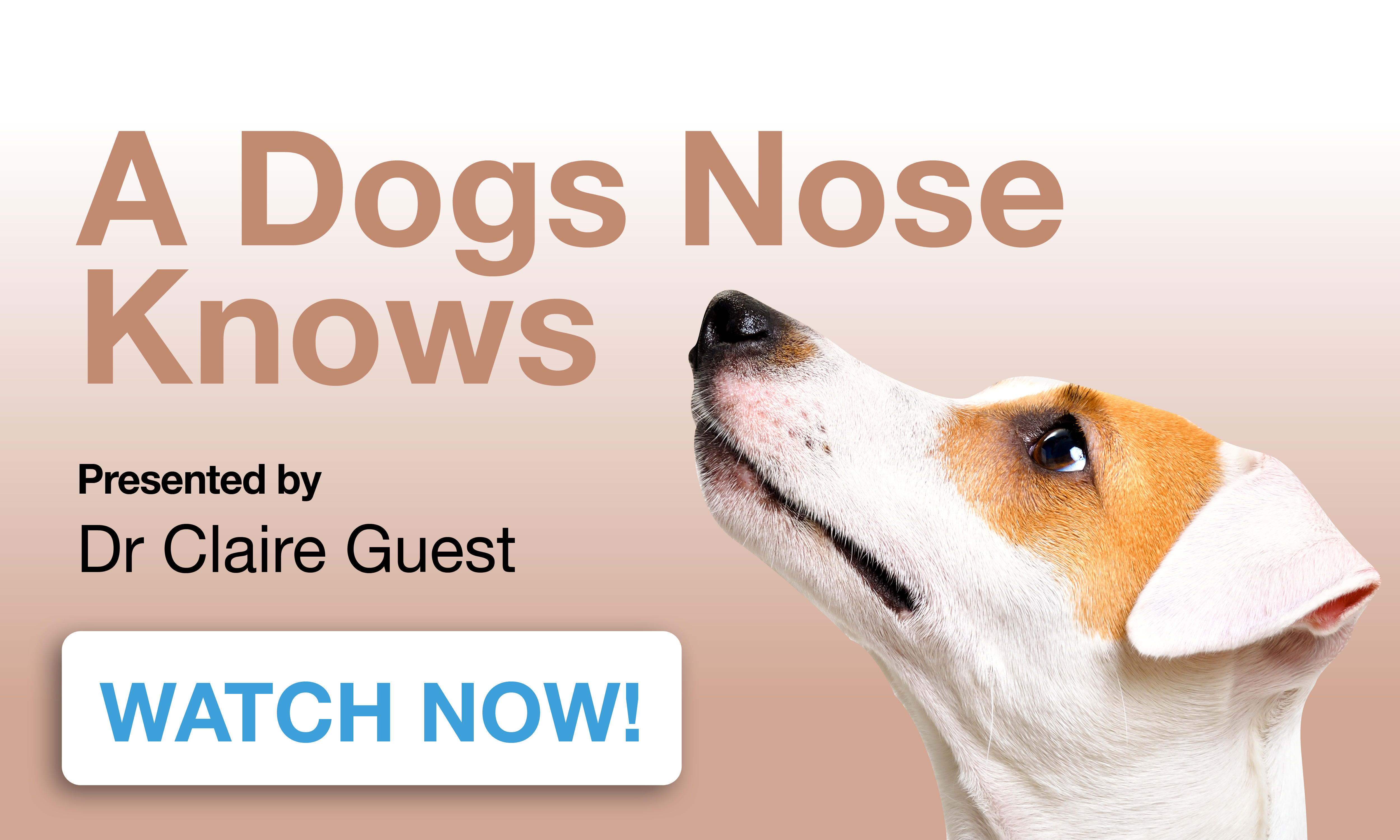 Event Details

Original Airdate: 28th October 2022

Presenter Bio:
Dr Claire Guest obtained a BSc in Psychology in 1986, followed by an MSc in Psychology by research. She is a member of the Association of Pet Behaviour Counsellors and was Director of Operations & Research at Hearing Dogs for Deaf People. Claire directed one of the first studies in the world to train dogs to identify cancer by odour publishing a robust proof of principle in the BMJ September 2004. Claire became Co-Founder of Medical Detection Dogs (MDD) in 2008 a charity that trains both Bio-detection and Medical Assistance Dogs and is the Chief Executive and Chief Scientific Officer. In 2011 Claire was awarded an Honorary Doctor of Science in recognition of an outstanding contribution to the development of new approaches for the detection of life-threatening diseases. In January 2015 she was awarded a British Citizen Award for health and in 2016 received the CBI National First Women award for Science and Technology. Claire is also a frequent peer reviewed author in scientific journals, and in 2016 she wrote "Daisy's Gift", about the formation of the charity and her remarkable dog 'Daisy', who indicated her own breast cancer. Claire regularly presents at conferences around the world, and frequently appears on national television and radio to discuss and promote the pioneering work and research of MDD. Claire's current work includes detection of bacteria, prostate cancer and COVID-19 among other conditions and diseases
Presentation Information:
Throughout history, dogs have fulfilled a range of different functions and more recently canine roles have grown to a range of medical support and disease detection tasks, with growing evidence of elevated levels of a 'signature' volatile organic compound (VOCs) associated with disease. As medical usage expands, it is imperative that the value of these dogs is objectively assessed, their potential capabilities are optimised, and these abilities are used to further understanding of disease diagnostics. Medical Detection Dogs (MDD) a leading charity, pioneers both medical assistance and disease detection and is committed to carrying out empirical research to improve operations and to inform future medical technologies. To further this aim, MDD have worked on NHS approved clinical trials, exploring dogs' ability to detect cancer, the malaria parasite, Parkinson's disease, and bacteria. In addition, our Medical Alert Assistance Dogs use olfactory alerting ability for day-to-day support for people living with chronic conditions. More recently MDD has been researching the canine ability to detect the virus COVID-19. This work has provided evidence that dogs can detect the odour of an individual with the disease from a collected piece of clothing, and we are now assessing the accuracy of dogs when screening people in real world settings. The possibility that dogs could provide a rapid accurate non-invasive screening tool for deadly virus in the future is an exciting and realistic.
Price: APBC members £12.50 ABTC members £25 Non-members £35
The recording will be available straight after purchase. You will also receive a link direct to the webinar replay in the purchase confirmation email.
Please note: APBC and SPEAKERS CANNOT BE HELD RESPONSIBLE FOR ANY TECHNICAL FAILING IN THE RESULTING RECORDING. Purchases of webinar recordings are not refundable.
Time

Year Around Event (2022)
Organiser
THE ASSOCIATION OF PET BEHAVIOUR COUNSELLORS LTD is a company registered in England and Wales with company number 09075813, VAT number 366417775
info@apbc.org.uk
50 Princes Street, Ipswich, IP1 1RJ