Adolescence in dogs: from brain to behaviour
Adolescence in dogs: from brain to behaviourDr Naomi Harvey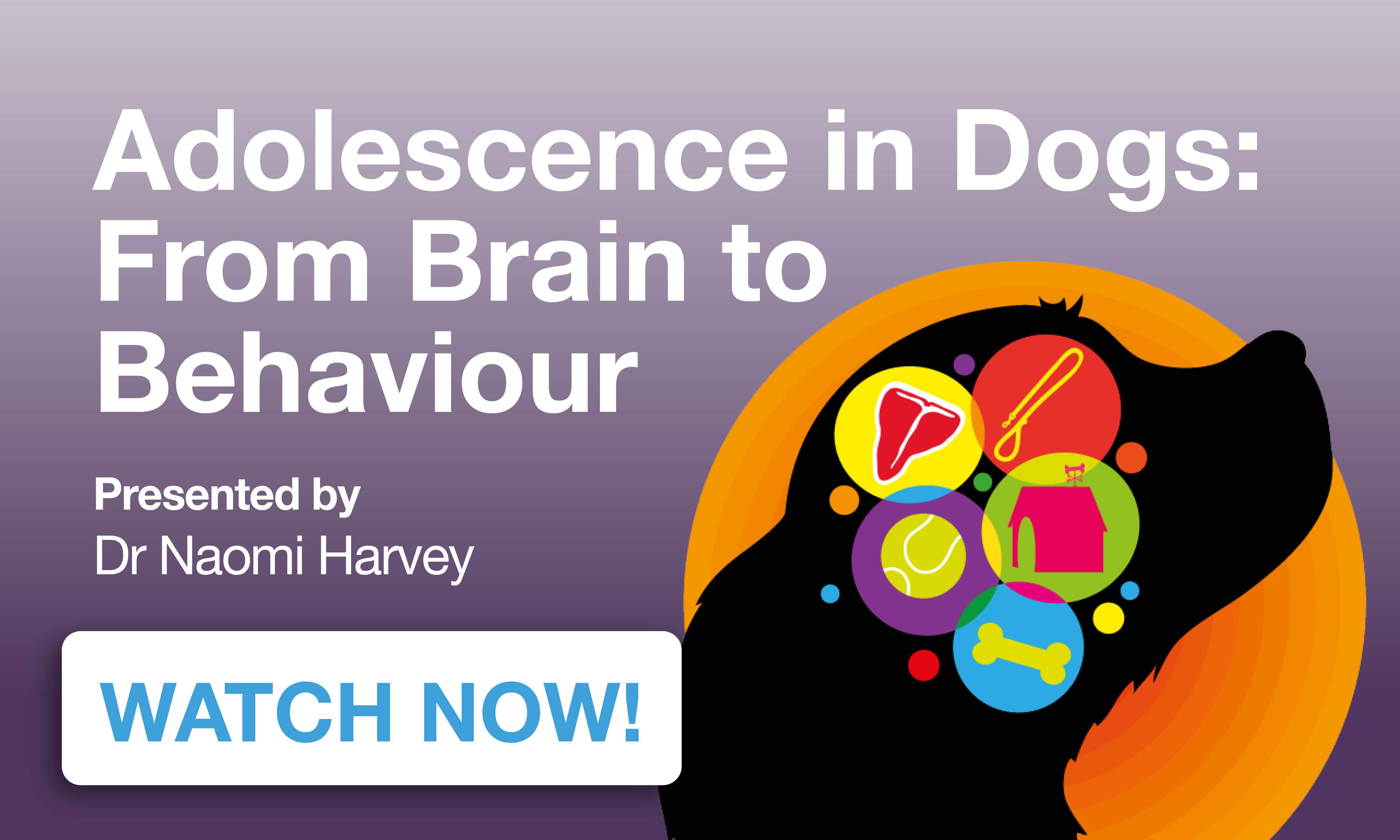 Event Details

Originally aired on 12th January 2021


Presented By Dr Naomi Harvey
Dr Harvey is a zoologist with a specialty in applied animal behaviour and veterinary health and welfare. Since November 2019 Naomi has been working at the Dogs Trust as a Research Manager in Canine Behaviour and she holds an honorary position as an Associate Professor of Companion Animal Behaviour and Welfare at the University of Nottingham. With a BSc in Zoology from Cardiff University and PhD in applied canine behaviour from the University of Nottingham, Naomi has a particular speciality in designing and validating methods for securing robust and valid measures of animal behaviour from their owners and carers. Her research interests lie in improving the evidence base for issues affecting companion animal welfare within the fields of veterinary medicine and clinical animal behaviour, to better inform how we manage and treat the animals in our care. Her PhD focussed on how behaviour develops in juvenile guide dogs, and as such, Naomi has a particular interest in the adolescent phase of development and what it could mean for our pets.
Naomi will be talking to us and answering questions about her fascinating research into Adolescent Dogs.
Whilst knowledge of dog behaviour during adolescence arguably exists in the public and professional domain, the period of adolescence in dogs and other companion animals is vastly understudied within the scientific community. Adolescence is a relatively long period of development during which a juvenile becomes and adult and is marked by intense neurological and hormonal changes. Within the domestic dog, adolescence is typically considered to begin with the onset of pubertal development at around 6 months of age (puberty is thought to begin between 6-9 months in males and 6-16 months of age in females) and continues until behavioural/social maturity is reached at around 2 years of age.
This period of development, particularly around puberty, is likely to be a particularly vulnerable time for dog-owner relationships, and for shaping the long-term behaviour of the developing animal. In this session, I will provide an overview of the neurological and behavioural changes that mammals undergo during adolescence, along with highlighting the potential implications. Although the particular focus of this session will be on dogs, many of the theory and evidence behind it should be applicable across mammalian species, and much of the background I will provide will be in general terms.
The recording will be available straight after purchase. You will also receive a link direct to the webinar replay in the purchase confirmation email.
Please note: APBC and SPEAKERS CANNOT BE HELD RESPONSIBLE FOR ANY TECHNICAL FAILING IN THE RESULTING RECORDING. Purchases of webinar recordings are not refundable.
Time

Year Around Event (2022) GMT
Organiser
THE ASSOCIATION OF PET BEHAVIOUR COUNSELLORS LTD is a company registered in England and Wales with company number 09075813, VAT number 366417775
info@apbc.org.uk
50 Princes Street, Ipswich, IP1 1RJ