Assessing equine personality: the development of a new tool
thu20jul8:00 pmtue9:30 amAssessing equine personality: the development of a new toolLoni Loftus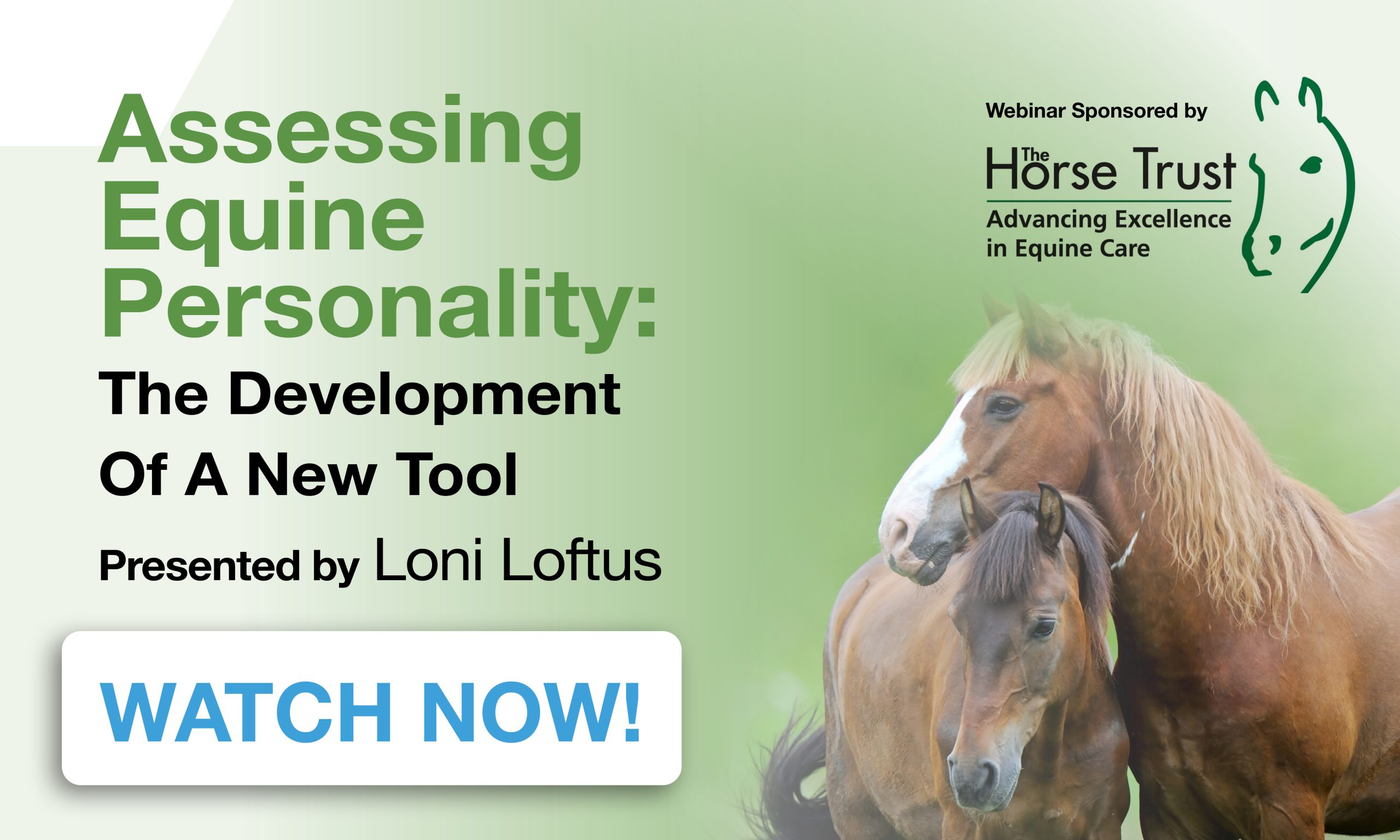 Event Details

Original Air Date: 20th July 2023

Presenter Bio:
Loni is a Certificated Clinical Animal Behaviourist specialising in horses, cats and dogs. She gained her professional accreditation with the Animal Behaviour and Training Council following successfully completing an MSc in Applied Animal Behaviour and Welfare at Newcastle University, followed by achieving her CCAB accreditation and has been working in the field of animal behaviour for over 15 years.
Loni also holds a BSc(Hons) in Equine science and is a Senior Fellow of the Higher Education Academy. She is currently a PhD scholar at Newcastle University studying the field of positive affective state in equines and is a lecturer in Clinical Animal Behaviour at the Royal (Dick) School of Veterinary Studies – University of Edinburgh.
Loni is a full member of the Association of Pet Behaviour Counsellors, a Certificated member and Director of the Fellowship of Animal Behaviour Clinicians and an IAABC Certified Dog and Horse behaviour Consultant. Loni has previously worked within the animal welfare sector, most recently a position as Head of Equine Operations for the RSPCA.
Loni is a member of the editorial board for RCVS Knowledge Veterinary Evidence and an associate editorial board member for Applied Animal Behaviour Science.
Presentaion Detail: Personality is an important facet in equine training and behaviour. Each individual equine is unique in its personality traits and our work with the individual should be reflective of these traits. Personality mediates intensities of emotional state experienced by the individual, an aspect we should remain cognisant of within our work. José Ortega y Gasset said "Tell me what you pay attention to, and I will tell you who you are" – a phrase relevant to both human and non-human animals. This presentation will discuss the development of a new tool to assess equine personality which has been designed to provide a simple format for horse owners to use in order to discover the facets of their equines' personality.
APBC members £12.50 ABTC members £25 Non-members £35
The recording will be available straight after purchase. You will also receive a link direct to the webinar replay in the purchase confirmation email.
Please note: APBC and SPEAKERS CANNOT BE HELD RESPONSIBLE FOR ANY TECHNICAL FAILING IN THE RESULTING RECORDING. Purchases of webinar recordings are not refundable.
Time

(Thursday) 8:00 pm - 9:30 am
Organiser
THE ASSOCIATION OF PET BEHAVIOUR COUNSELLORS LTD is a company registered in England and Wales with company number 09075813, VAT number 366417775
info@apbc.org.uk
50 Princes Street, Ipswich, IP1 1RJ