Cognitive Dysfunction in Dogs and Cats
Cognitive Dysfunction in Dogs and CatsDr Lore Haug DVM, MS, DACVB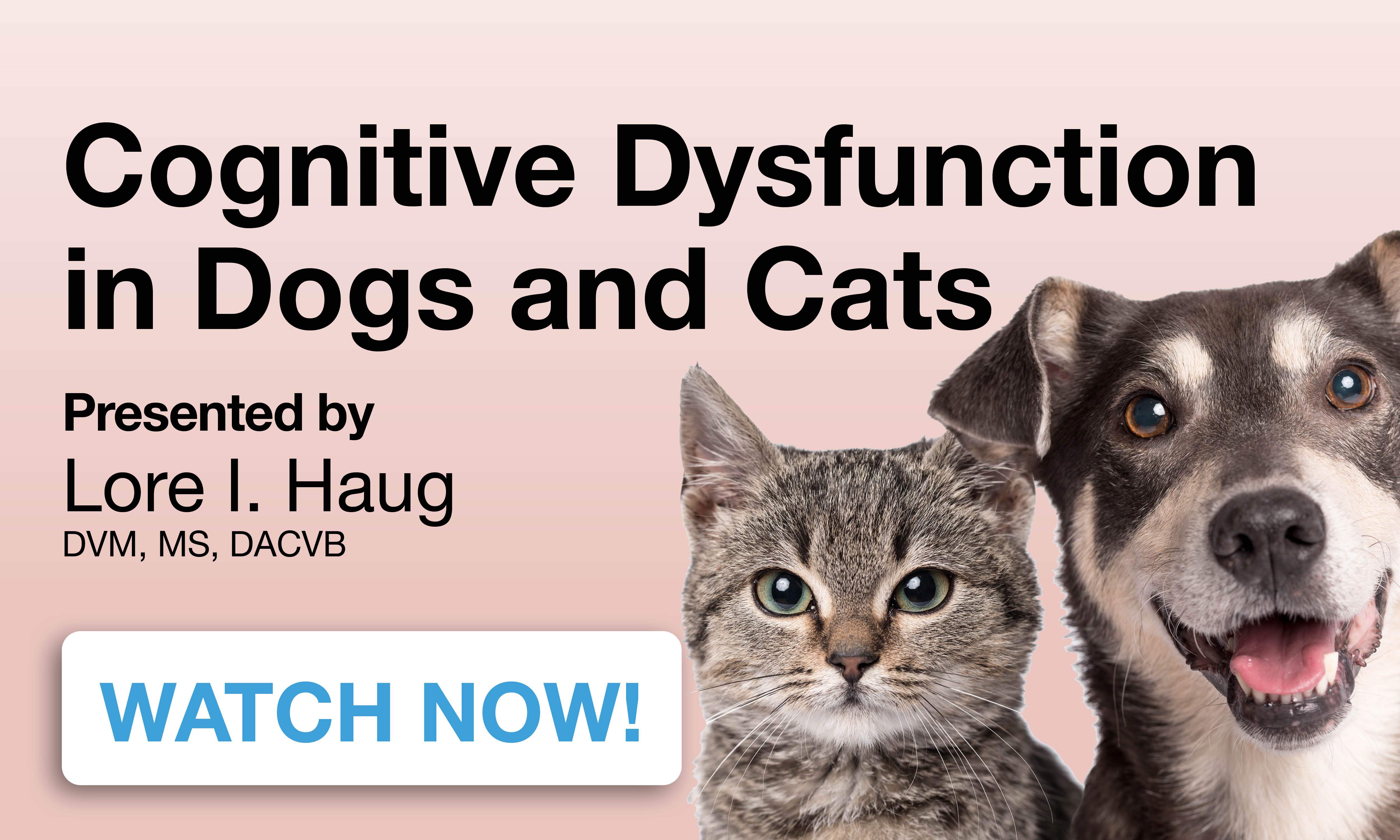 Event Details

Originally aired 6th July 2021

Presenter Bio
Dr. Haug graduated summa cum laude from Texas A&M College of Veterinary Medicine in 1993. She completed a one year internship in small animal medicine and surgery at Louisiana State University School of Veterinary Medicine. In 2002, she completed a Master's Degree and residency program in animal behavior at Texas A&M College of Veterinary Medicine. She ran the Animal Behavior Service at Texas A&M from 2002-2007 and then move to Sugar Land, TX to begin a private referral practice.
Dr. Haug speaks frequently across the country at veterinary and animal behavior venues, with an emphasis on canine, feline, and equine behavior. Dr. Haug also has a special interest in neurobiology, behavior modification, and pharmacology. She has published articles in several veterinary journals and is a chapter author in several books.
She is a past President of the American College of Veterinary Behaviorists and is a long standing member of the ACVB Examination Committee. Dr. Haug is also a certified consultant through the International Association of Animal Behavior Consultants and a member of the Association of Professional Dog Trainers.
Presentation Details:
This seminar covers the pathophysilogy of brain aging and dementia in dogs and cats. Current options for management and treatment are also covered. Cats and dogs suffer from similar brain aging changes as humans and can also develop dementia similar to Alzheimer's disease. However, aging animals may show behavior changes from treatable conditions. Even brain aging and dementia can be temporarily reversed or slowed with proper interventions.
The recording will be available straight after purchase. You will also receive a link direct to the webinar replay in the purchase confirmation email.
Please note: APBC and SPEAKERS CANNOT BE HELD RESPONSIBLE FOR ANY TECHNICAL FAILING IN THE RESULTING RECORDING. Purchases of webinar recordings are not refundable.
Time

Year Around Event (2022)
Organiser
THE ASSOCIATION OF PET BEHAVIOUR COUNSELLORS LTD is a company registered in England and Wales with company number 09075813, VAT number 366417775
info@apbc.org.uk
50 Princes Street, Ipswich, IP1 1RJ