De-Stress for Success? Updating our understanding of equine stress in behaviour modification
De-Stress for Success? Updating our understanding of equine stress in behaviour modificationDr Amber Batson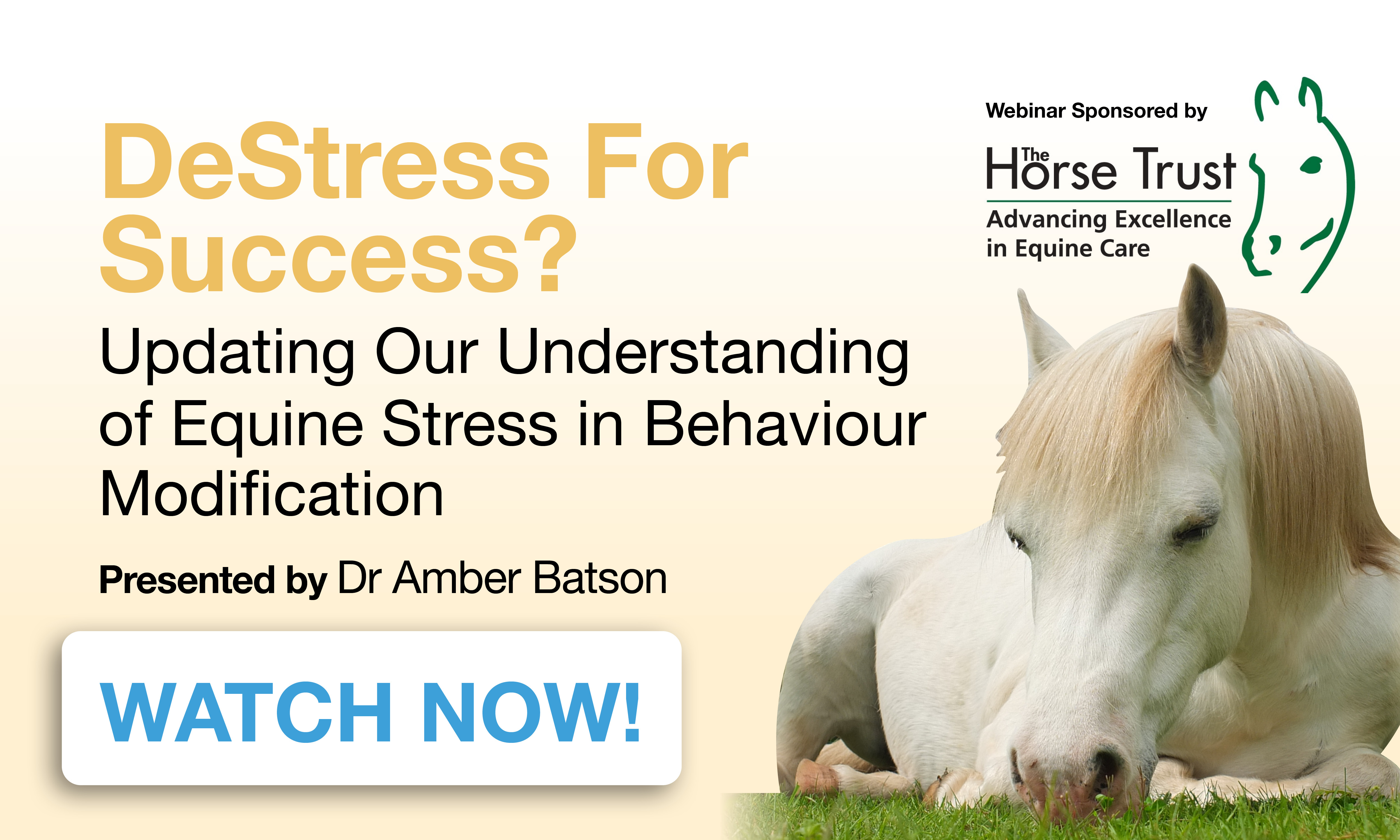 Event Details

Original Air Date: 9th February 2023

Presenter Bio:
Amber qualified from the Royal Veterinary College, London in 1999 and has worked in clinical vet practice ever since. Within her first year in practice, she developed a desire to understand animal behaviour in more detail and began undertaking a variety of courses so she could incorporate behaviour in her day to day veterinary work and offer behaviour consultations.
In 2007, Amber set up her business Understand Animals, with the intention to improve the understanding and practical application of behaviour knowledge for all those involved in animal care from legal guardians, to rescue workers, trainers, behaviourists and those in the veterinary community.
Today Amber provides education on dog, cat and equine behaviour worldwide as well as continuing to work as a vet and behaviourist and as a legal expert witness in animal welfare cases.
Presentation Detail:
This one hour webinar will look at the most recent research on stress in the equine, what happens in body and brain, the causes, the long term impact and how we can modify environment and management and training plans to minimise stress as part of a more effective approach to behaviour modification. The webinar will aim to combine a modern science approach with practical application for use in the equine world.
Price: APBC members £12.50 ABTC members £25 Non-members £35
The recording will be available straight after purchase. You will also receive a link direct to the webinar replay in the purchase confirmation email.
Please note: APBC and SPEAKERS CANNOT BE HELD RESPONSIBLE FOR ANY TECHNICAL FAILING IN THE RESULTING RECORDING. Purchases of webinar recordings are not refundable.
Sharing link: https://www.apbc.org.uk/Events/de-stress-for-success/
Time

Year Around Event (2023)
Organiser
THE ASSOCIATION OF PET BEHAVIOUR COUNSELLORS LTD is a company registered in England and Wales with company number 09075813, VAT number 366417775
info@apbc.org.uk
50 Princes Street, Ipswich, IP1 1RJ