Deaf Awareness for Animal Professionals
Deaf Awareness for Animal ProfessionalsLaura Adkins BSc (Hons) MSc and Meghan Durno BSc (Hons) RVN, ISFMCertFN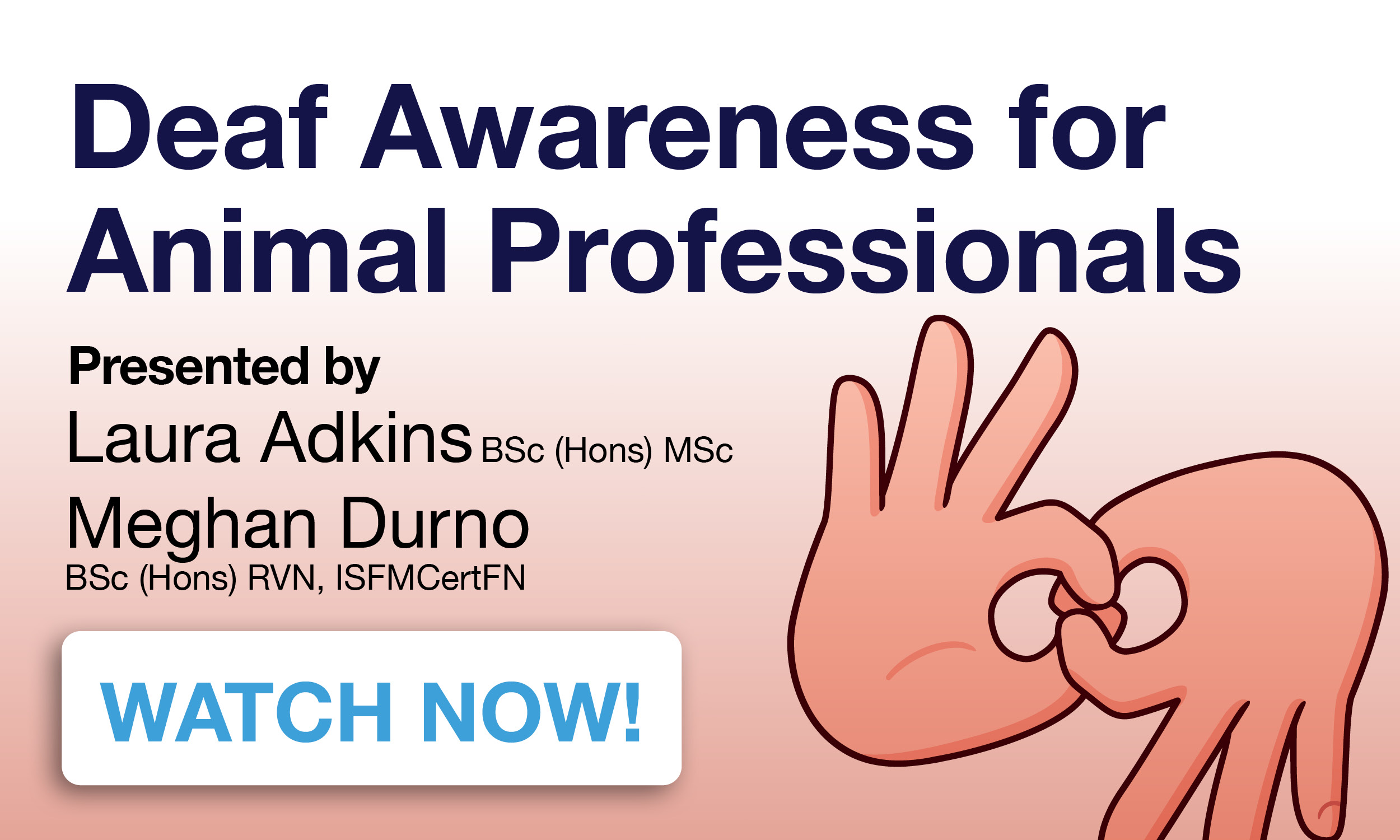 Event Details

Original Air Date: 10th March 2022

Presenter Bio :
Meghan Durno – I am a profoundly deaf registered veterinary nurse who qualified in 2016. I have a keen interest in feline behaviour and I also have a passion in raising deaf awareness in the veterinary industry as I have experienced first-hand the struggles of being deaf in a fast-paced profession. This struggle has increased during the pandemic with the introduction of face masks and the influx of locum staff in workplace, many whom have never met a deaf person before.
Laura Adkins is a behaviourist and trainer who has worked and volunteered with animals and people for 11 years through behaviour consultations, private training, group classes, veterinary surgeries, and rescue centres. She also worked at the assistance dog charity Hearing Dogs for Deaf people as a Partnership Instructor. She has been in a very privileged position over the years to meet a large number of people who are Deaf and hard of hearing and was opened up to a whole new world of awareness, communication, connection and education. A big part of this awareness was how difficult interactions can be with people who are not Deaf aware and what an impact it would have if more people took the time to learn and adapt how they work and communicate. With her background in a range of animal centred workplaces she hopes to bring this experience together to create a more inclusive animal industry.
Presentation Information :
An introduction to Deaf awareness and mindful communication for anyone working with animals and people, but particularly those who are behaviourists, trainers and those working in the veterinary field.
Laura and Meghan will highlight some important and interesting information to not only help you improve the inclusivity of your work, but potentially open you up to a whole new view of our world.
Price: APBC members £12.50 ABTC members £25 Non-members £35
The recording will be available straight after purchase. You will also receive a link direct to the webinar replay in the purchase confirmation email.
Please note: APBC and SPEAKERS CANNOT BE HELD RESPONSIBLE FOR ANY TECHNICAL FAILING IN THE RESULTING RECORDING. Purchases of webinar recordings are not refundable.
Time

Year Around Event (2022)
Organiser
THE ASSOCIATION OF PET BEHAVIOUR COUNSELLORS LTD is a company registered in England and Wales with company number 09075813, VAT number 366417775
info@apbc.org.uk
50 Princes Street, Ipswich, IP1 1RJ