Dog bites: Public health risk and prevention strategies
Dog bites: Public health risk and prevention strategiesDr Carri Westgarth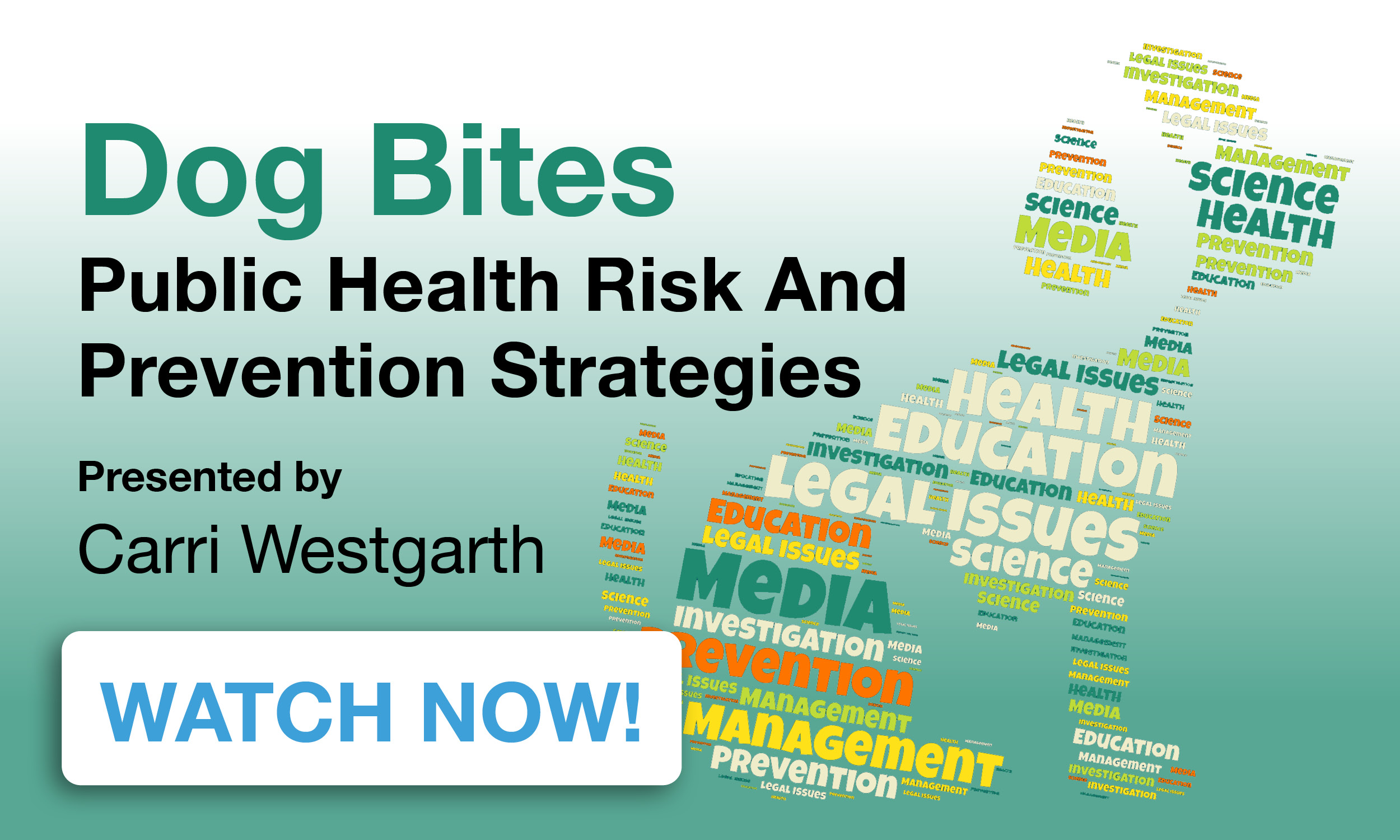 Event Details

Original Air Date: 26th January 2023

Presenter Bio:
Dr Carri Westgarth is a Senior Lecturer in Human-Animal Interaction at the University of Liverpool with a passion for understanding the relationships we have with our pets. With a background in animal behaviour and dog training she has trained in veterinary epidemiology and human public health. Her research interests focus on the implications of dog ownership for human health and wellbeing, but also how owner management of their dogs can impact dog welfare. Both quantitative and qualitative research methods are used to tackle her primary research questions of how to improve population health through the promotion of dog walking, and how to prevent dog bites. Her expertise on understanding and changing the behaviour of dog owners is sought by many organisations wishing to prevent dog bites and promote 'responsible' dog owner behaviour, such as her work as a consultant for Royal Mail. She is also a Full Member of the Association of Pet Behaviour Counsellors and founder of the Merseyside Dog Safety Partnership. In her spare time Carri teaches dog training classes, and previously was a professional Assistance Dog Instructor for the charity Hearing Dogs for Deaf People. Her practical experience in many areas relating to dogs, combined with a multi-disciplinary academic perspective, gives unique strength and relevance to her expertise.
Presentation Detail:
Dog aggression towards people is a significant, increasing and under-recognised public health problem causing physical harm and psychological distress. Aggressive incidents also have serious consequences for the dog, from changed management and poor welfare, to relinquishment or euthanasia. The question is therefore raised of how best to prevent dog bites from occurring. Over recent decades and with the advice of dog experts, efforts to reduce human-directed dog-aggression have taken a two-pronged approach, through the use of legislation banning certain breeds and giving power to target owners of 'out of control' dogs, and most popular, through educational campaigns to educate about dog behavioural signs, 'responsible dog ownership' and the importance of supervising dogs and children. But how effective are these approaches likely to be and what can we learn from successful injury prevention strategies in other areas? In this presentation we will review the scientific knowledge about dog bites and 'responsible' dog ownership (in particular in the UK), apply public health and human behaviour change lenses to the problem, and brainstorm injury prevention strategies that are likely to be most effective in reducing dog bites. Spoiler: 'more education' is surprisingly not the answer.
Price: APBC members £12.50 ABTC members £25 Non-members £35
The recording will be available straight after purchase. You will also receive a link direct to the webinar replay in the purchase confirmation email.
Please note: APBC and SPEAKERS CANNOT BE HELD RESPONSIBLE FOR ANY TECHNICAL FAILING IN THE RESULTING RECORDING. Purchases of webinar recordings are not refundable
Time

Year Around Event (2023)
Organiser
THE ASSOCIATION OF PET BEHAVIOUR COUNSELLORS LTD is a company registered in England and Wales with company number 09075813, VAT number 366417775
info@apbc.org.uk
50 Princes Street, Ipswich, IP1 1RJ