Dogs and Carbs: It's Complicated
Dogs and Carbs: It's ComplicatedLinda P Case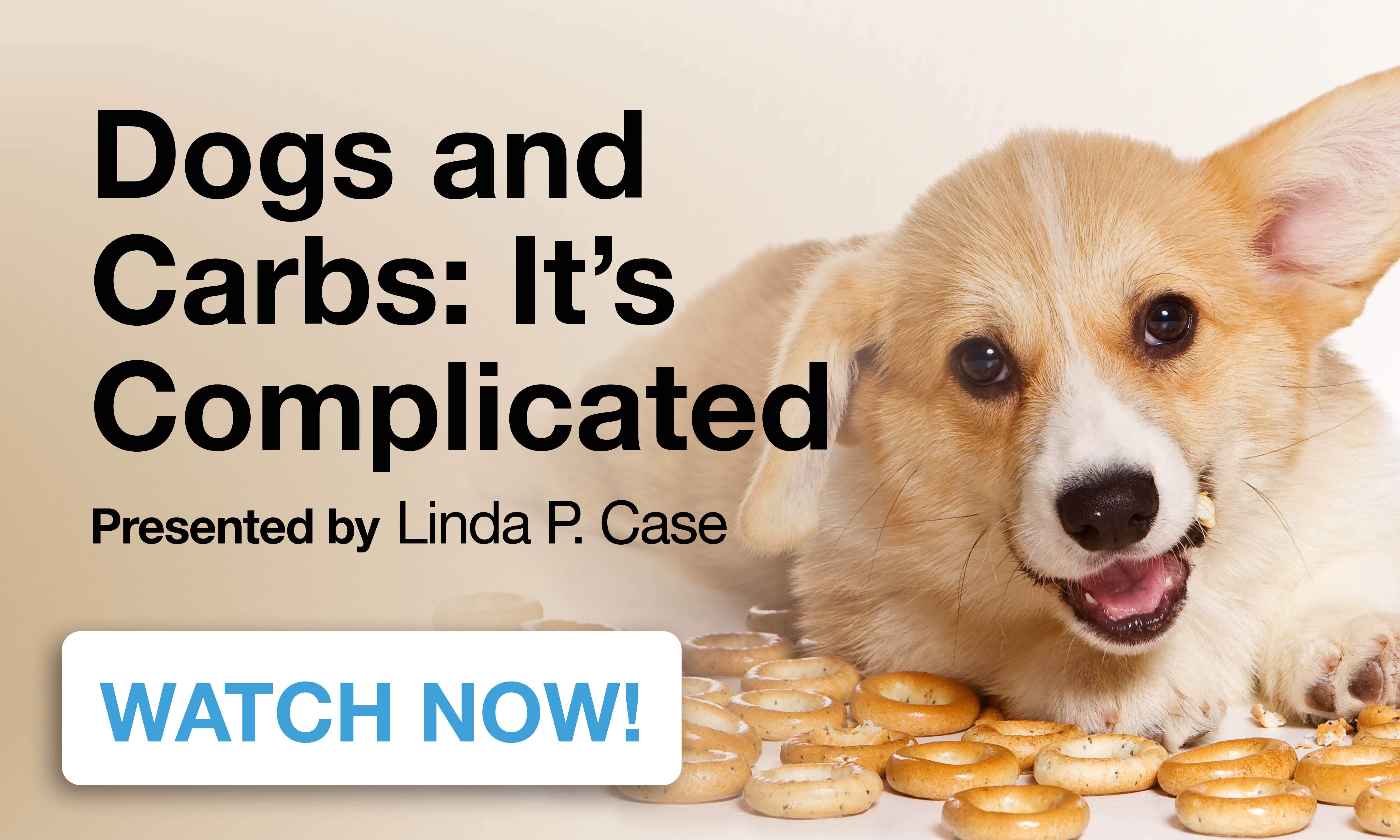 Event Details

Original Air date: 9th March 2021

Presenter Bio: Linda Case is a science writer, dog trainer, and canine nutritionist. Her academic training is as a canine/feline nutritionist and trainer. She earned her B.S. in Animal Science at Cornell University and her M.S. in Canine/Feline Nutrition at the University of Illinois, and was a lecturer of companion animal science at the University of Illinois for 15 years. She also taught companion animal behavior and training at the College of Veterinary Medicine. Linda operates and teaches at The Science Dog Courses (https://courses.thesciencedog.com/) and is the author of eight books, including most recently, "Dog Smart", "Dog Food Logic", and "Beware the Straw Man". She also writes the popular blog "The Science Dog" (http://thesciencedog.wordpress.com/). Linda and her husband Mike currently share their lives with three amazing dogs; Cooper, Alice and Stanley, plus Pete (the formerly feral cat). In addition to training dogs and writing, Linda enjoys hiking, swimming, bird watching, yoga and gardening – all of which she happily shares with her dogs.
Presentation Detail: The question of how best to feed dogs stimulates great debate and evokes strong emotions among dog professionals and owners, alike. One of the most contentiously defended viewpoints in recent years is that dogs should not be fed diets that contain digestible carbohydrate (starch). Two primary arguments used to defend this position are: (1) Dogs are carnivores and have no dietary requirement for carbohydrate; and (2) Dogs are unable to efficiently digest starch. According to these views, including starch-providing ingredients in dog foods is unhealthy and provides no nutritional value.
However, like many persistent beliefs, there is both a bit of truth and a fair amount of falsehood to these claims. In this webinar, we will look at the nutritional science and the evidence regarding dogs and carbohydrates. What do we know about the nutrient needs of dogs regarding digestible carbohydrate and how does this knowledge inform us about how to best feed our dogs? This exploration leads us to a discussion of the dog's evolutionary history and domestication, changes in how we have fed dogs over time, the types of ingredients that are commonly found in dog foods, and examinations of dogs' actual food choices and preferences. Following a review of the science and the evidence, the webinar will include time for questions and discussions regarding the inclusion (or exclusion) of carbohydrates in the diets of our dogs. We hope that you will join us!
The recording will be available straight after purchase. You will also receive a link direct to the webinar replay in the purchase confirmation email.
Please note: APBC and SPEAKERS CANNOT BE HELD RESPONSIBLE FOR ANY TECHNICAL FAILING IN THE RESULTING RECORDING. Purchases of webinar recordings are not refundable.
Time

Year Around Event (2022)
Organiser
THE ASSOCIATION OF PET BEHAVIOUR COUNSELLORS LTD is a company registered in England and Wales with company number 09075813, VAT number 366417775
info@apbc.org.uk
50 Princes Street, Ipswich, IP1 1RJ