P3 DRAX, LIVING WITH A TRAUMATISED RESCUE DOG: MAINTAINING TRUST & MAKING PROGRESS
P3 DRAX, LIVING WITH A TRAUMATISED RESCUE DOG: MAINTAINING TRUST & MAKING PROGRESSNatalie Light BSc (Hons) PGDip PGCert CCAB FHEA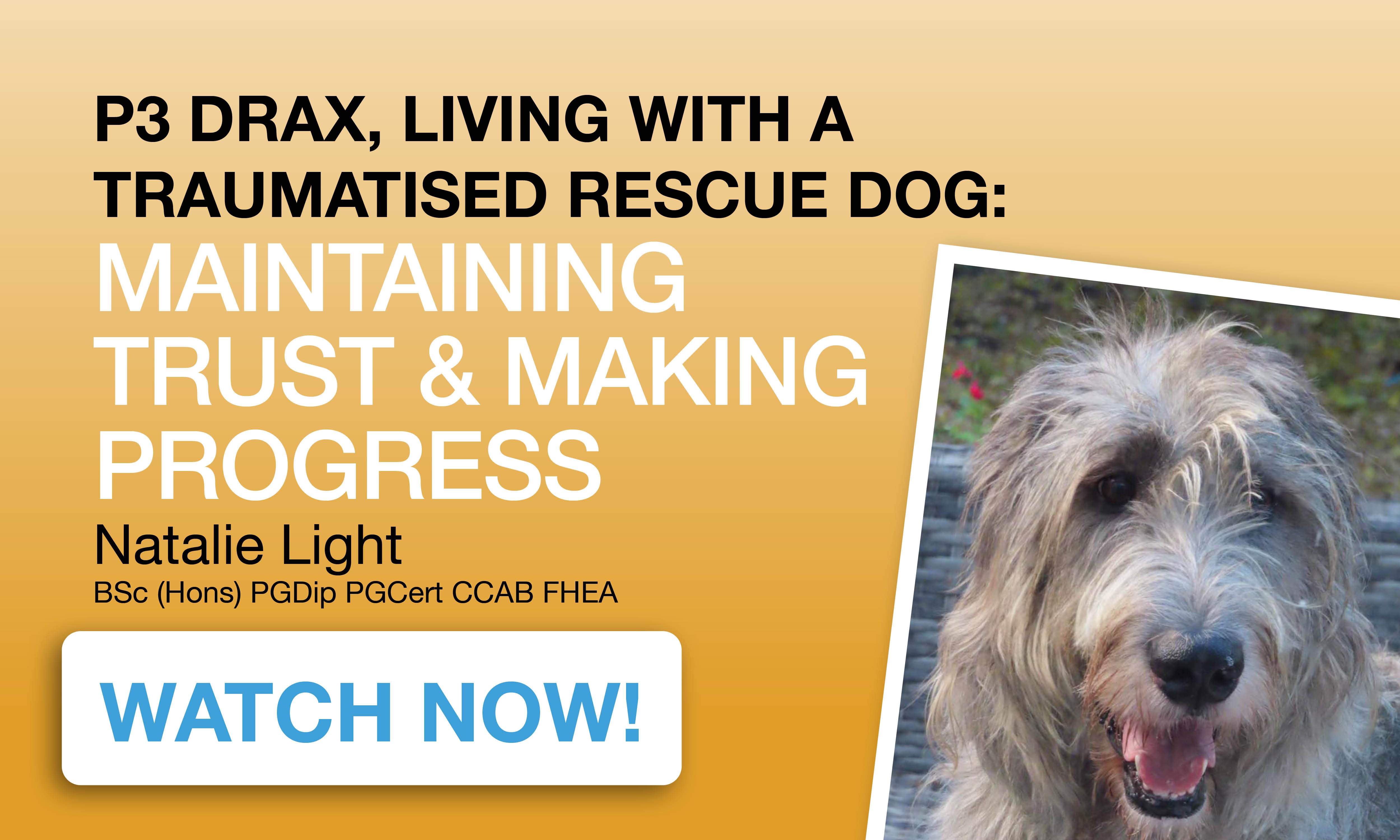 Event Details

Originally Broadcast on 28th January 2021

Presented by Natalie Light BSc (Hons) PGDip PGCert CCAB FHEA
Natalie Light, is an Association for the Study of Animal Behaviour (ASAB) accredited Certificated Clinical Animal Behaviourist, an Animal Behaviour & Training Council (ABTC) Registered Clinical Animal Behaviourist and Animal Training Instructor and a full member of the Association of Pet Behaviour Counsellors. Natalie has been working professionally in the companion animal sector since 2006 and has graduated from Southampton University with a Zoology BSc (2:1) and Newcastle University in Applied Animal Behaviour & Welfare PGDip (Distinction). She is a Fellow of the Higher Education Academy and a lecturer on the Animal Welfare and Society BA Hons at University of Winchester.
Meet Drax, an Irish Wolfhound who was rescued at 10 months of age in August 2019. As part of a series of settling in and living with a traumatised rescue dog, Nat joins us again for the 3rd instalment of how Drax is coping with life in a home environment. Topics such as managing play and interactions with other dogs, building and maintain confidence with humans, and introducing equipment and handling will be covered. Nat will also discuss the importance of identifying and treating trauma and how you can break goals and progress down into baby steps to avoid re-traumatisation.
The recording will be available straight after purchase. You will also receive a link direct to the webinar replay in the purchase confirmation email.
Please note: APBC and SPEAKERS CANNOT BE HELD RESPONSIBLE FOR ANY TECHNICAL FAILING IN THE RESULTING RECORDING. Purchases of webinar recordings are not refundable.
Time

Year Around Event (2022)
Organiser
THE ASSOCIATION OF PET BEHAVIOUR COUNSELLORS LTD is a company registered in England and Wales with company number 09075813, VAT number 366417775
info@apbc.org.uk
50 Princes Street, Ipswich, IP1 1RJ