Dynamic Dog - Identifying discomfort in the dogs we work with
Dynamic Dog - Identifying discomfort in the dogs we work withGemma Hodson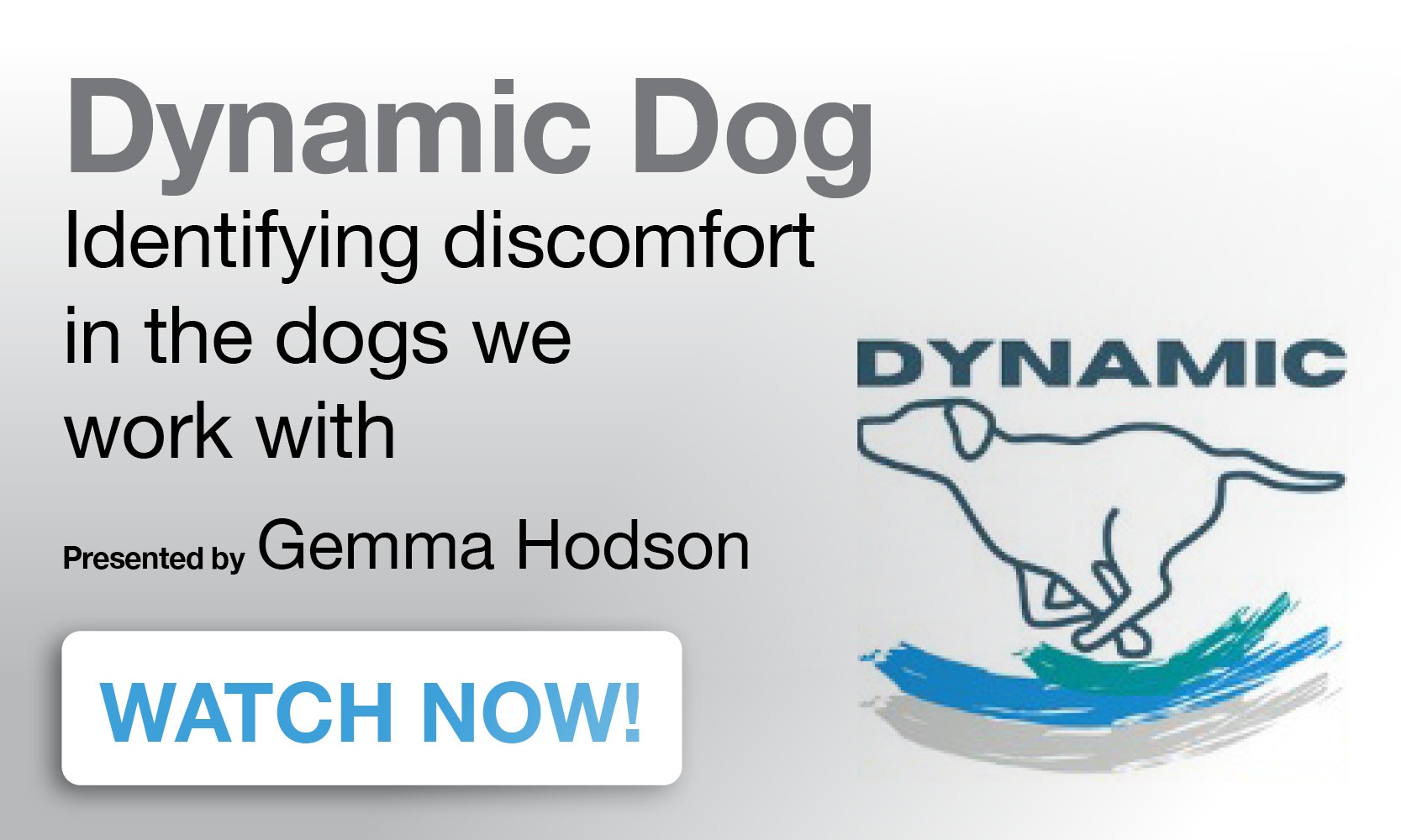 Event Details

Original Air Date: 1st November 2022

Presenter Bio:
Gemma has lived a life with dogs of various breeds growing up in a house full of show dogs, but initially studied at Hartpury College for a career with horses, going on to work at show jumping and event yards along with hydrotherapy centres.
In the early 2000's she started growing an interest in how pain affects movement & behaviour after one of her own horses developed gastric ulcers, this then became an obsession when returning to her love of dogs and attending dog classes could see dogs from an early age already experiencing difficulties.
Wanting to expand on her observational skills she trained as a Practitioner in various alternative hands-on therapies, before deepening her knowledge of canine anatomy, physiology & movement alongside Canine Sports Therapy and Rehabilitation.
Gemma now combines her passion for canine behaviour (level 5 dip) and movement to help dog guardians get to the bottom of their dogs problematic behaviours using science based analysis techniques to shine a light on potential issues, she is often called in by other canine professionals to work with their clients for additional support and advice.
Quite often what Gemma observes can be a direct cause or adding to a behavioural issue which could go on to be resolved or managed & supported to lessen the outward behaviour.
More recently Gemma now teaches other canine professionals to do what she does so that more help and support can be given to guardians and their dogs as possible through her Dynamic Dog Practitioner Programme. This is the very first training of its kind that teaches Dog Professionals the skills to spotting physical discomfort in dogs, and how to put it in terms the Vet can make a more informed diagnosis.
Presentation Detail:
In this webinar, Gemma will discuss why canine professionals should be observing physical aspects of the dog as part of an assessment and training programme. She will identify key areas to look at when working with dogs including conformation, posture and movement and will share a case study about a dog with troubling behaviours and how Gemma's Dynamic Dog protocol transformed things for the dog and the owner.
Price: APBC members £12.50 ABTC members £25 Non-members £35
The recording will be available straight after purchase. You will also receive a link direct to the webinar replay in the purchase confirmation email.
Please note: APBC and SPEAKERS CANNOT BE HELD RESPONSIBLE FOR ANY TECHNICAL FAILING IN THE RESULTING RECORDING. Purchases of webinar recordings are not refundable.
Time

Year Around Event (2022)
Organiser
THE ASSOCIATION OF PET BEHAVIOUR COUNSELLORS LTD is a company registered in England and Wales with company number 09075813, VAT number 366417775
info@apbc.org.uk
50 Princes Street, Ipswich, IP1 1RJ