Equine Neuroscience from theory to application
Equine Neuroscience from theory to applicationSebastian McBride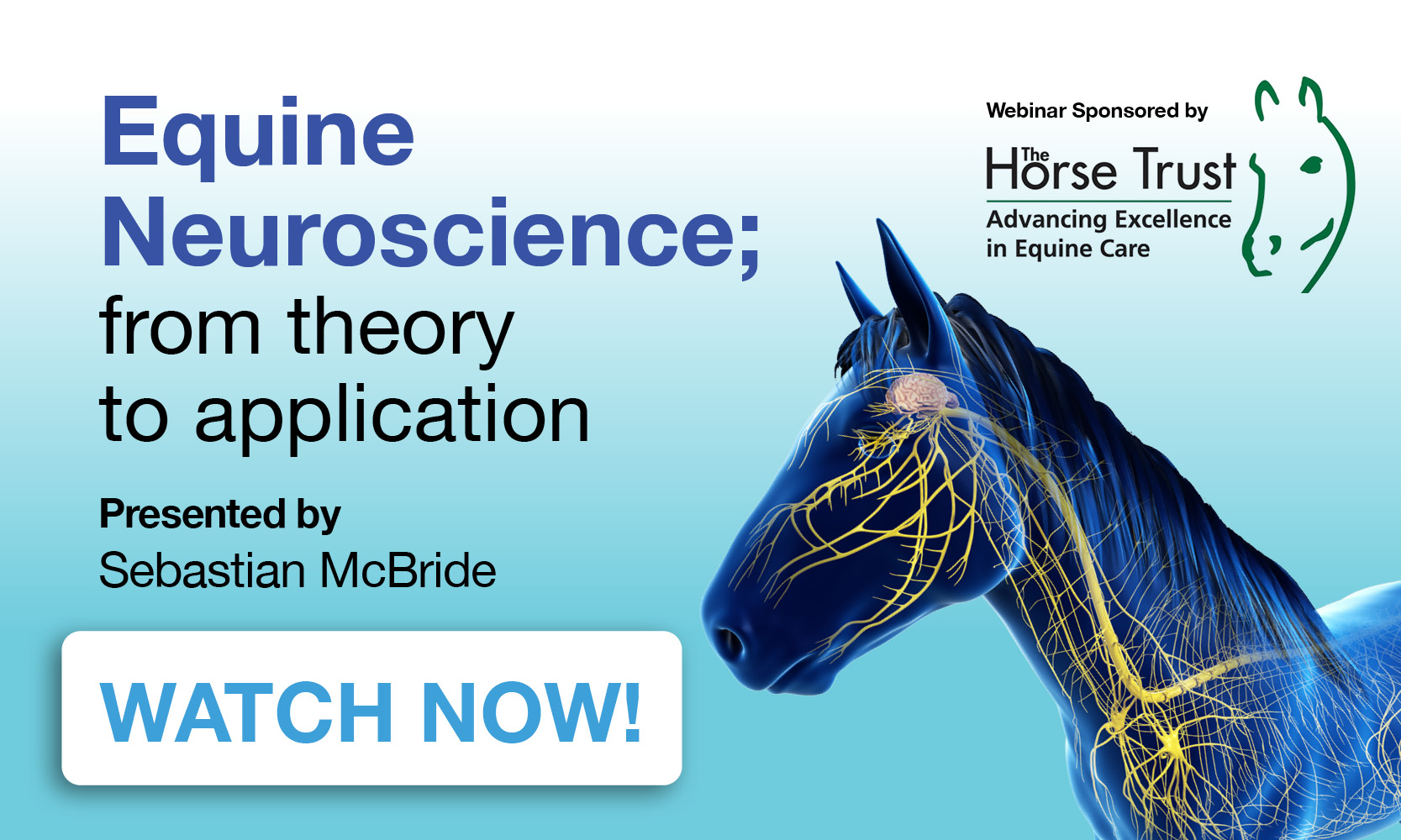 Event Details

Original Air date: 10th May 2022

Presenter Bio: After completing a degree in Zoology at the University of Liverpool (UK) and a PhD in abnormal equine behavior at the University of Edinburgh (UK), Dr Sebastian McBride continued his research at Aberystwyth University looking specifically at the neurophysiological mechanisms underpinning repetitive behavioural disorders. This line of investigation extended towards attributes of learning behaviour and computational models of brain systems as a way of better understanding some of the underlying mechanisms involved. He later worked at the University of Cambridge developing cognitive tests as markers for normal and abnormal brain function in large animal species as part of a Huntington's disease project. Sebastian has recently returned to Aberystwyth University to establish a research group on the effects of stress and ageing on ovine and equine cognition. He has presented several papers at international conferences and written a number of articles for both the scientific and popular press on the neuroscience of equine behaviour.
Presentation Details: This webinar gives provides a basic understanding of how the mammalian brain works and identifies specific anatomical and functional characteristics of the equine brain. Factors affecting brain function are also discussed with a focus on how neurophysiological changes can manifest as changes in perception, cognition and behavioural output. The webinar also presents current equine neurophysiological research and discusses this work in relation to abnormal behaviour, learning mechanisms and implications for training the horse.
The recording will be available straight after purchase. You will also receive a link direct to the webinar replay in the purchase confirmation email.
Please note: APBC and SPEAKERS CANNOT BE HELD RESPONSIBLE FOR ANY TECHNICAL FAILING IN THE RESULTING RECORDING. Purchases of webinar recordings are not refundable.
Time

Year Around Event (2022)
Organiser
THE ASSOCIATION OF PET BEHAVIOUR COUNSELLORS LTD is a company registered in England and Wales with company number 09075813, VAT number 366417775
info@apbc.org.uk
50 Princes Street, Ipswich, IP1 1RJ