Equine Psychopharmacology and other therapeutics Part 2
Equine Psychopharmacology and other therapeutics Part 2Valerie Jonckheer-Sheehy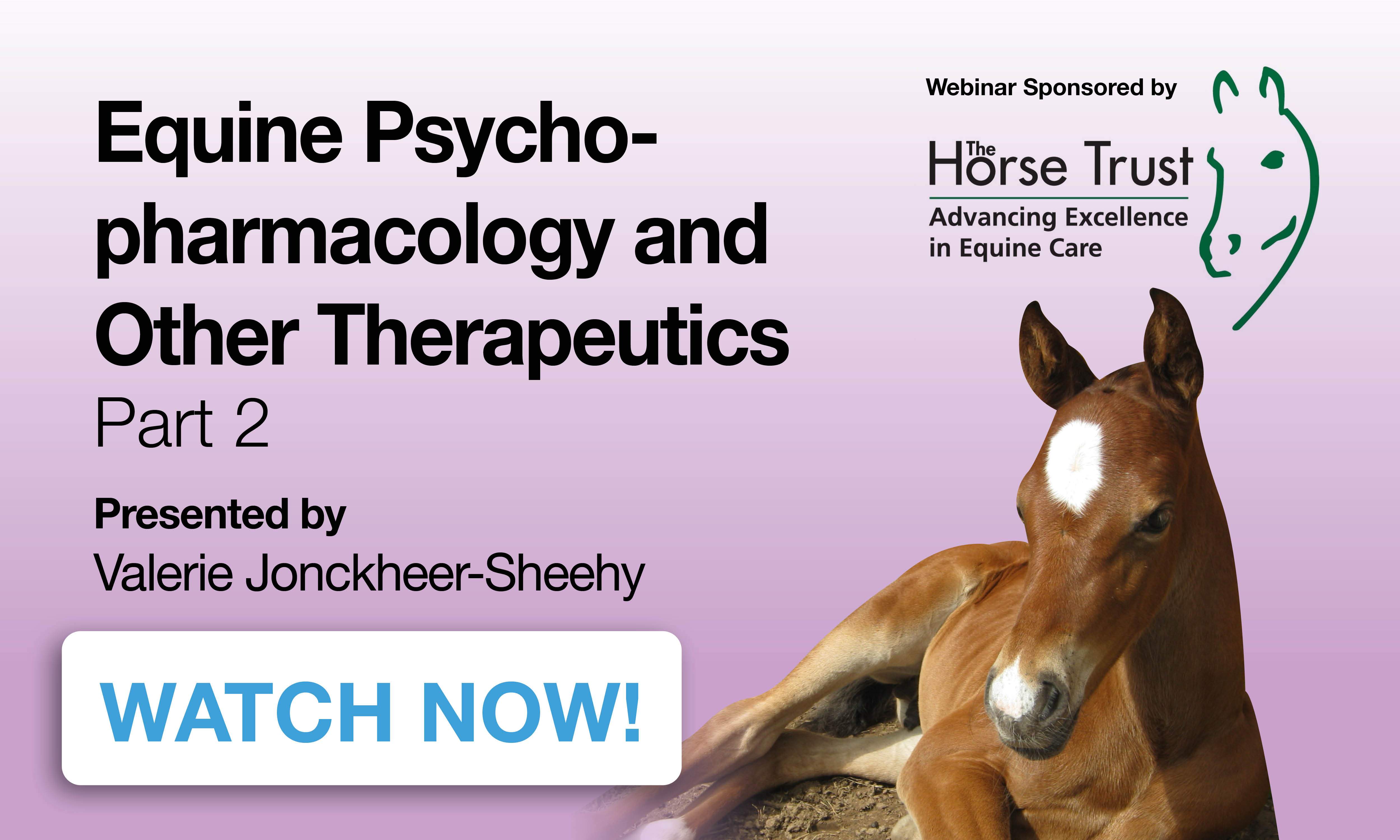 Event Details

Original Air Date 8th December 2021

Presenter Bio:
Valerie is an Irish Veterinarian who graduated from the Veterinary College of Ireland in 2003. Valerie has worked in Wales, Belgium and India. She currently lives and works in The Netherlands where she has been for the past 11 years. Valerie has worked in farm animal, companion animal and equine practice. She has a Masters in Laboratory Animal Science (Ghent University, Belgium) and a Certificate in Animal Welfare Science, Ethics and Law (Royal College of Veterinary Surgeons, UK). Valerie is a Diplomate of the ECAWBM (subspeciality Behavioural Medicine) and also of the subspeciality Animal Welfare Science, Ethics and Law. Valerie is a member of the Editorial Board for the Journal of Veterinary Behavior and the Fear Free LLC Advisory Board.
After her time in India, Valerie spent almost 4 years at the Faculty of Veterinary Medicine, Utrecht University in the Netherlands where she worked as a behaviour veterinarian, behaviour/welfare researcher and lecturer.
Valerie then set up Animalytics, her own Veterinary Behavioural Medicine and Animal Welfare Consultancy (www.animalytics.nl). During her seven years with Animalytics, she also consulted at the Dutch Specialist Veterinary Referral Clinic de Wagenrenk (www.wagenrenk.com). In 2019 Valerie became Head of Behaviour and Welfare for IVC Evidensia The Netherlands. Valerie sees companion animal behavioural medicine cases at Evidensia Animal Hospital Nieuwegein. Other species (horses, research animals, zoo animals and farm animals) are seen for behavioural medicine or welfare consultations on location. Valerie currently teaches behavioural medicine and animal welfare science in the IVC Evidensia Academy and is also very well known in the international lecturing circuit.
Presentation Detail: Along with part 1 this lecture is designed to give the equine veterinary practitioner a basic understanding of how the brain can be influenced by psychopharmacological and other interventions to facilitate desirable behaviour change in horses. Although only a veterinarian can diagnose and treat medical conditions in animals, it will be of interest to equine behaviour practitioners as well. As although non-veterinarians may not diagnose and prescribe medical conditions in animals, it is important than equine behaviour practitioners have an understanding of these matters.
The recording will be available straight after purchase. You will also receive a link direct to the webinar replay in the purchase confirmation email.
Please note: APBC and SPEAKERS CANNOT BE HELD RESPONSIBLE FOR ANY TECHNICAL FAILING IN THE RESULTING RECORDING. Purchases of webinar recordings are not refundable.
Time

Year Around Event (2022)
Organiser
THE ASSOCIATION OF PET BEHAVIOUR COUNSELLORS LTD is a company registered in England and Wales with company number 09075813, VAT number 366417775
info@apbc.org.uk
50 Princes Street, Ipswich, IP1 1RJ