Ethological Contributions to Behaviour Problems in Dogs
Ethological Contributions to Behaviour Problems in DogsKim Brophy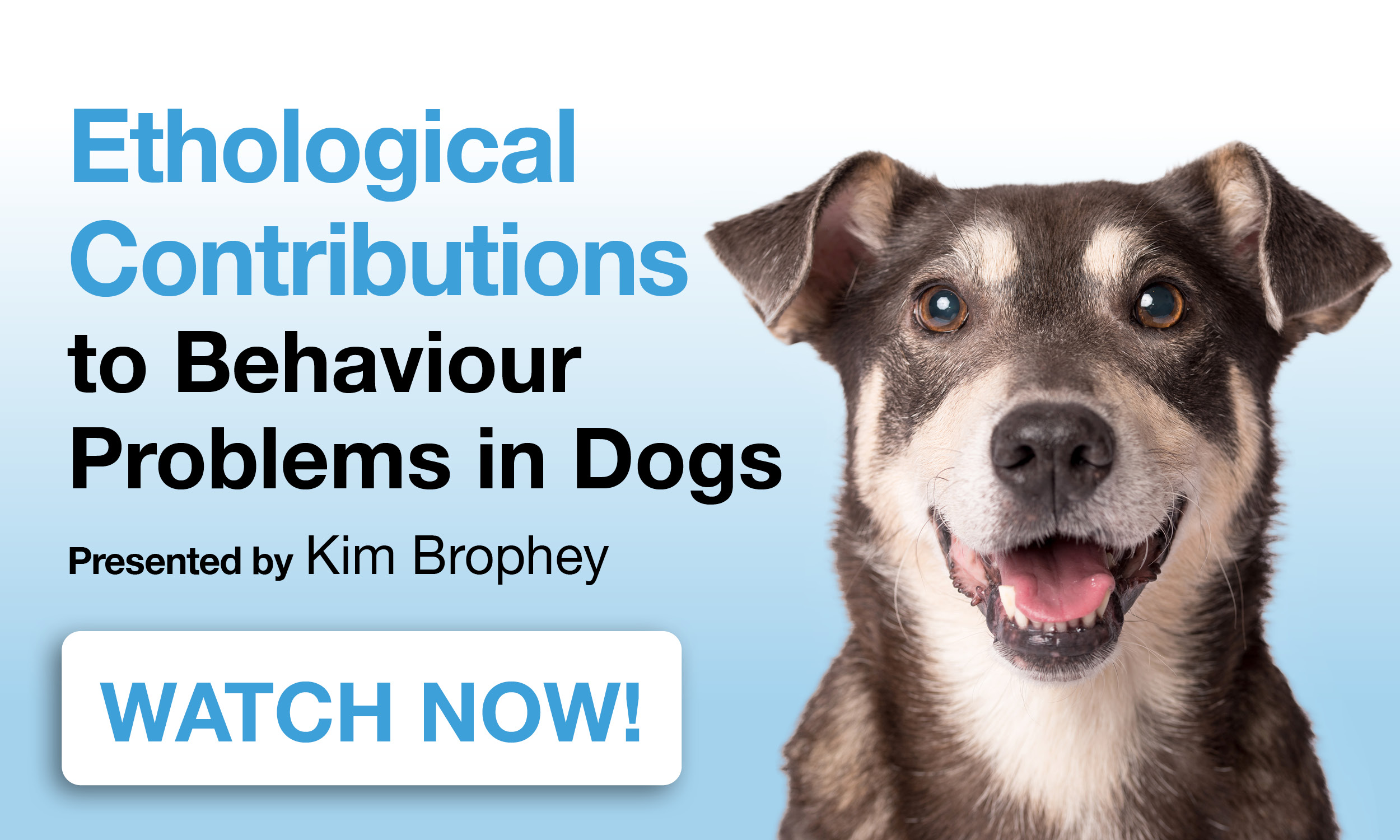 Event Details

Originally Aired 21st February 2022

Presenter Bio: Kim Brophey, CDBC, CPDT-KA, FDM ®, is an applied ethologist and owner of The Dog Door Behavior Center. Kim's commitment to Family Dog Mediation has been recognized internationally, awarded the APDT Outstanding Trainer of the Year in 2009 and the Best Dog Trainer of WNC seven years in a row. She is a member of the International Society for Applied Ethology and the Association of Professional Dog Trainers, and a certified member and past board member of the International Association of Animal Behavior Consultants. Kim Brophey's Dog L.E.G.S.® model of comprehensive canine science has been endorsed by prominent canine scientists such as Raymond Coppinger and embraced by reputable dog trainers worldwide. From her applied ethology content in Michael Shikashio's Aggression in Dogs Master Course to her upcoming Applied Ethology & Family Dog Mediation ® Course, Kim's work is a celebrated contribution to the field. Her groundbreaking book, MEET YOUR DOG, and TED talk have made profound waves and become favorites among both dog professionals and the public. Kim continues to build bridges and invite others to contribute to a new conversation about dogs- one that challenges us to redefine how we perceive, talk about, and treat our canine companions as a society
Presentation Detail: Ethically and effectively working cases as a canine behavior professional requires us to perform both initial and ongoing comprehensive analysis of all contributing elements to a dog's behavior. Participants will be introduced to Kim Brophey's widely celebrated and endorsed L.E.G.S.® system of Applied Ethology as a simple and practical framework for doing so – bridging multiple scientific disciplines and delivering new depths of understanding by organizing the critical components of all animal behavior. Learn how to identify, understand, and integrate the full scope of potential factors influencing behavior – Learned, Environmental, Genetic, and unique internal conditions of the individual animal's own Self – in order to prevent misunderstandings and incorrect assessment of cases, obstacles to the progress of behavior modification, inadequate safety and management provisions, and even life-threatening circumstances for both animals and people.
The recording will be available straight after purchase. You will also receive a link direct to the webinar replay in the purchase confirmation email.
Please note: APBC and SPEAKERS CANNOT BE HELD RESPONSIBLE FOR ANY TECHNICAL FAILING IN THE RESULTING RECORDING. Purchases of webinar recordings are not refundable.
Time

Year Around Event (2022)
Organiser
THE ASSOCIATION OF PET BEHAVIOUR COUNSELLORS LTD is a company registered in England and Wales with company number 09075813, VAT number 366417775
info@apbc.org.uk
50 Princes Street, Ipswich, IP1 1RJ