Evidence Based Practice for Animal Professionals Part 2 – the journal club session
Evidence Based Practice for Animal Professionals Part 2 – the journal club sessionDr Morag K Heirs, PhD, MSc, MA(hons)(SocSci), PGCAP, ABTC-CAB, ABTC-ATI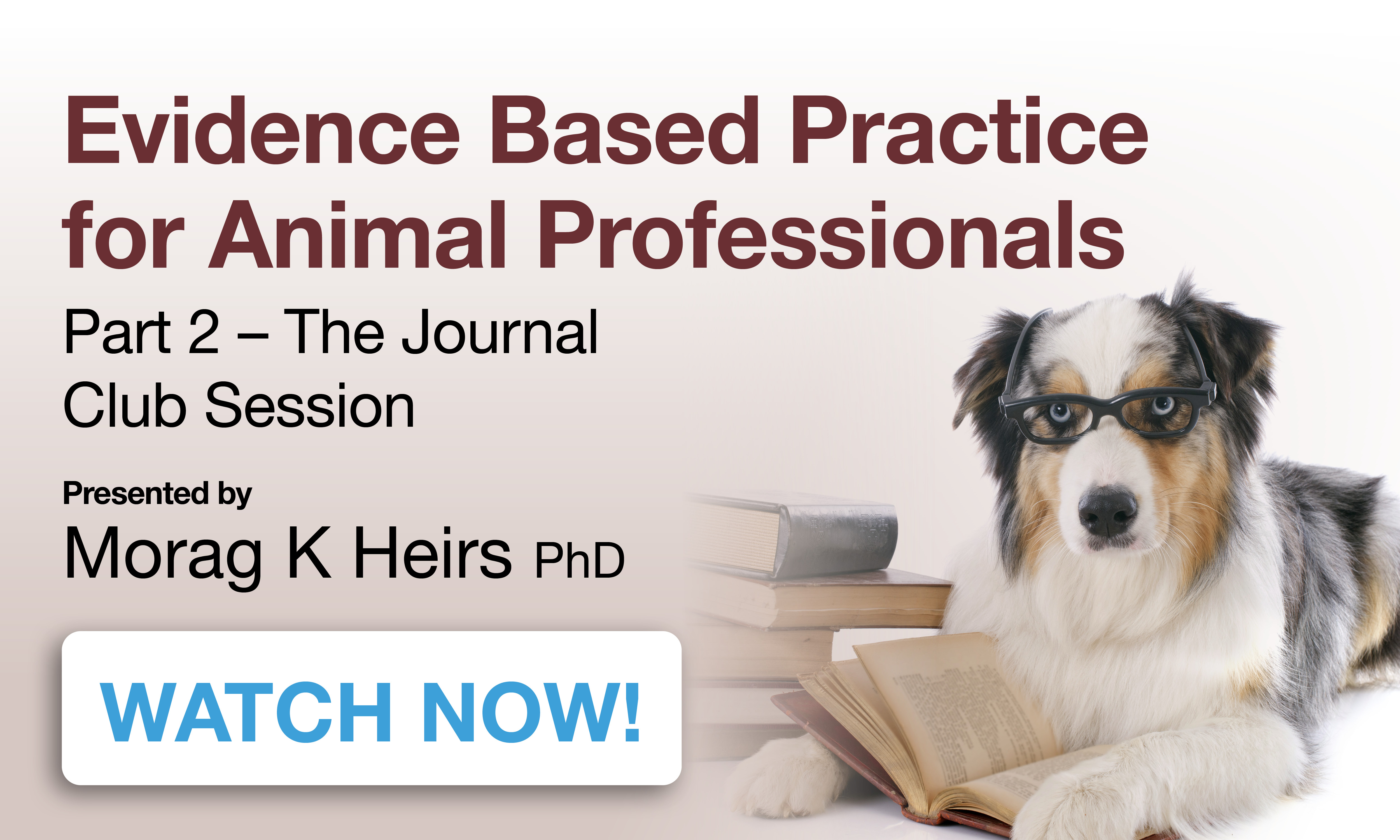 Event Details

Original Air Date 19th April 2022

APBC Members – Free (You will find the correct discount code in the members area of the website)

ABTC Member – £25

Non- Members – £35

We recommend you purchase and watch the first webinar to get the full benefit: https://www.apbc.org.uk/Events/evidence-based-practice-for-animal-professionals-part-1/ and also read the paper: https://journals.plos.org/plosone/article?id=10.1371/journal.pone.0102722

Presenter Bio:

Dr Morag K Heirs, PhD, MSc, MA(hons)(SocSci), PGCAP, ABTC-CAB, ABTC-ATI

Morag is a practicing Clinical Animal Behaviourist, proud member of the APBC and an enthusiastic academic with particular interests in research, evidence based practice, scentwork and deaf/blind dogs. Morag divides her time between academic study and clinical practice.

Academic activities: Morag is currently a lecturer in Psychology (Open University), Human Factors in Behaviour Counselling & Advanced Dog Training (Bishop Burton) and a visiting lecturer for the University of Edinburgh (MSc in Clinical Animal Behaviour). She supervises a range of MSc research students from Clinical Animal Behaviour to Acupuncture and Advanced Oriental Medicine.

Clinical activities: Morag is a Director of Well Connected Canine Ltd, based in York (UK) and manages a small team providing canine behaviour services to private clients, local government organisations, and national animal rescue organisations. She specialises in risk assessment, treating phobias and working with deaf and/or blind dogs. Morag also includes skills from her previous career as a myofascial release and remedial massage therapist in many consultations.

When not attempting to convince practitioners that a scientific journal club really is the most exciting way to spend a Saturday morning, Morag enjoys canicross ultra running with her two collies and a large German Wire-Haired Pointer.

Presentation Detail:

The aim of this session is to read the set paper and apply one of the basic appraisal tools covered in part 1. Come to this webinar with your judgements, comments and most importantly, your questions.

We will discuss the set paper in detail (including the statistics!) and try to come to a group conclusion on the reliability and validity of the author's conclusions.

The recording will be available straight after purchase. You will also receive a link direct to the webinar replay in the purchase confirmation email.

Please note: APBC and SPEAKERS CANNOT BE HELD RESPONSIBLE FOR ANY TECHNICAL FAILING IN THE RESULTING RECORDING. Purchases of webinar recordings are not refundable.
Time

Year Around Event (2022)
Organiser
THE ASSOCIATION OF PET BEHAVIOUR COUNSELLORS LTD is a company registered in England and Wales with company number 09075813, VAT number 366417775
info@apbc.org.uk
50 Princes Street, Ipswich, IP1 1RJ