Fast Friends – approaches to reduce the risk of injury and set our horses up for success with new equine companions 
tue27jun8:00 pmsun9:30 pmFast Friends – approaches to reduce the risk of injury and set our horses up for success with new equine companions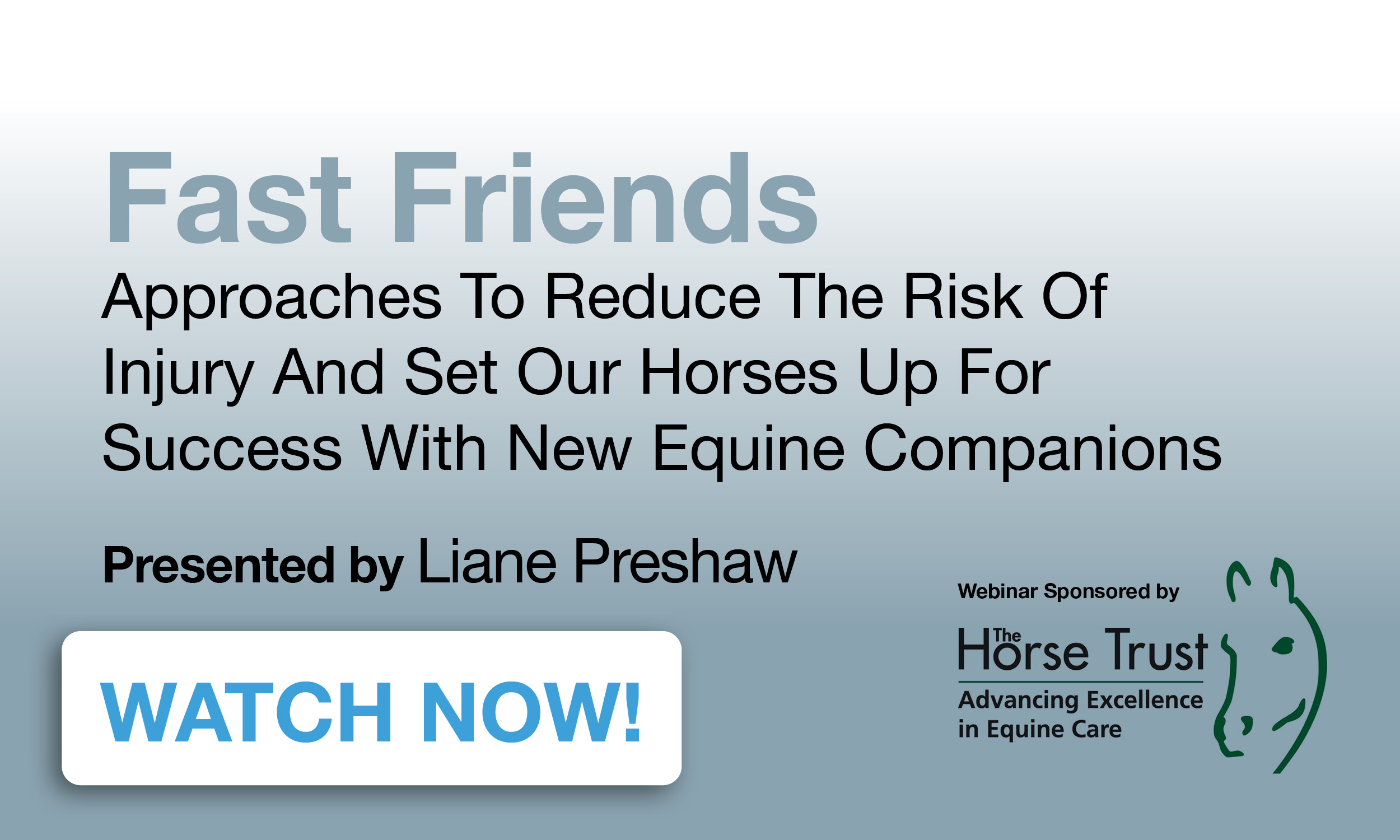 Event Details

Original Air Date: 27th June 2023

Presenter Bio: Liane has a Post-Graduate Diploma in Clinical Animal Behaviour, an MPhil in assessing horse welfare, and an MSc and BSc in Equine Science. She is an ABTC Accredited Animal Behaviourist and Provisional Member of the APBC. Liane is also a BHS Accredited Professional Coach and has achieved the Equitation Science International Diploma of Equitation Science. Liane is the Equine Quality of Life and Research Director for The Horse Trust. In this role, she researches new developments in how horses are cared for, managed and trained, so that the team can continue to update and improve their practices, and therefore improve the welfare of the horses in their care. Liane also develops training resources for trainee clinical animal behaviourists and assists the team in dealing with behaviour cases. She spends her spare time looking after her two horses, Lucas and Capsize.
Presentation Information: Introducing new horses to a group can result in agonistic interactions and an increased risk of injury, which can lead some owners to avoid turning their horses out with other horses. This webinar will explore how early life experiences and other factors can influence our horses' social skills and ability to cope with new environments and equine companions. It will evaluate traditional approaches to introducing new horses to a group and then explore alternative approaches that have the potential to reduce the risk of injury, minimise stress and set our horses up for success with their new companions.
Price: APBC members £12.50 ABTC members £25 Non-members £35
The recording will be available straight after purchase. You will also receive a link direct to the webinar replay in the purchase confirmation email.
Please note: APBC and SPEAKERS CANNOT BE HELD RESPONSIBLE FOR ANY TECHNICAL FAILING IN THE RESULTING RECORDING. Purchases of webinar recordings are not refundable.
Time

(Tuesday) 8:00 pm - 9:30 pm
Organiser
THE ASSOCIATION OF PET BEHAVIOUR COUNSELLORS LTD is a company registered in England and Wales with company number 09075813, VAT number 366417775
info@apbc.org.uk
50 Princes Street, Ipswich, IP1 1RJ