Helping Herding Breeds Thrive in the Urban Environment through Urban Herding
Helping Herding Breeds Thrive in the Urban Environment through Urban Herding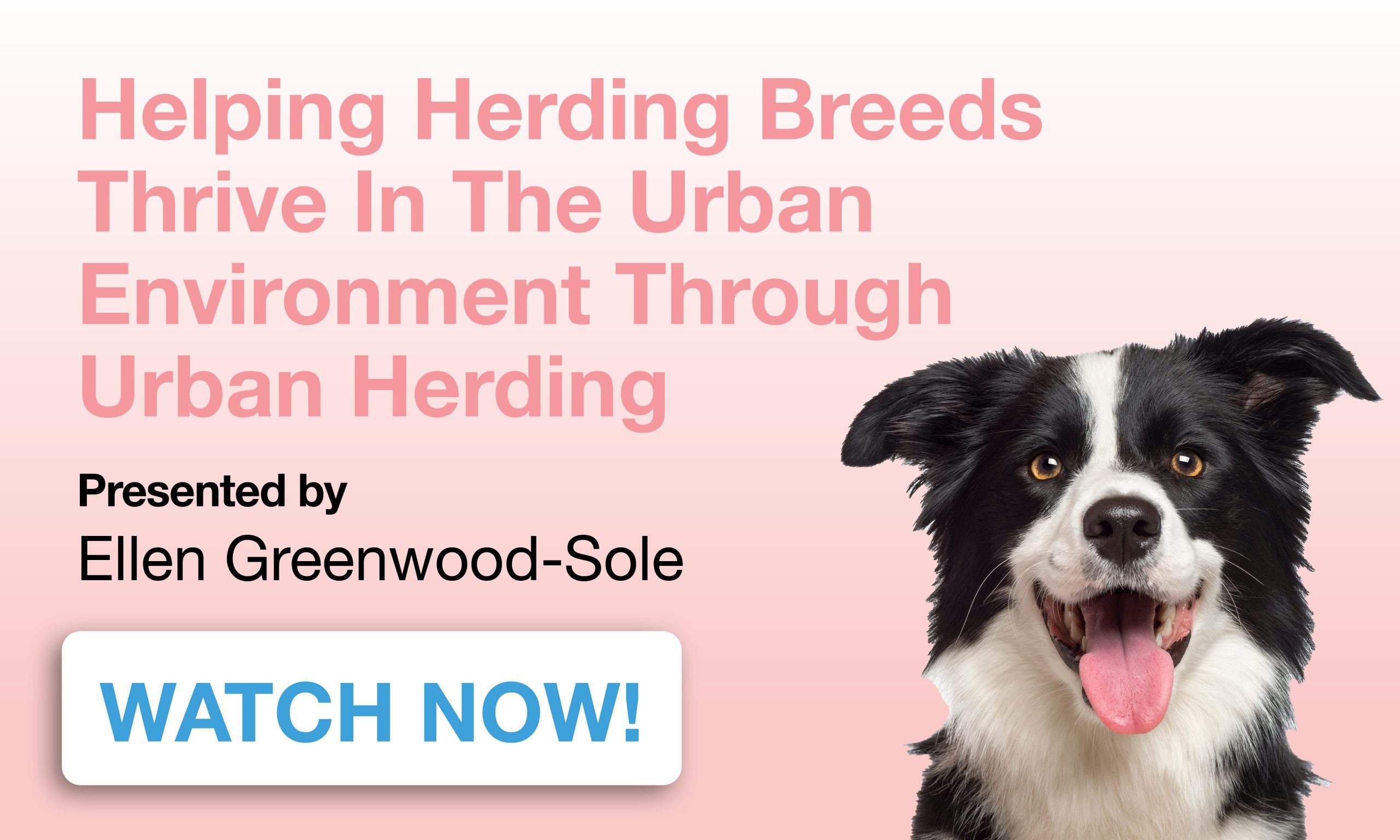 Event Details

Original Air Date: 21st September 2023

Presenter Bio:
Ellen has made it her mission to help owners of herding breeds connect in a practical way with their dogs so they can live together peacefully and happily. She is a full member of the Association of Pet Dog Trainers (APDT) the Institute of Modern Dog Trainers(IMDT), a graduate CBST of the Companion Animal Institute and is currently studying Applied Animal Behaviour and Training at University.
Ellen has owned Border Collies for her entire adult life, at home she has Efa (3 years old) a budding-ball enthusiast and Piper (1 year old) who is never far behind thanks to her herding drive. Jasper, Ellen's dog in a million, ignited Ellen's passion and drive to create The Urban Herder and took her on a vast learning journey across the country. Together Ellen and Jasper travelled the country to work with other trainers, attend seminars and events to seek help with his anxieties, fear, car reactivity and struggle with daily life. On this journey Ellen came across many other owners who were also experiencing issues similar to Jasper who could benefit from the knowledge gained. Although Jasper is no longer here, it is thanks to him that Ellen is able to understand, work with and help others and their herding breed to thrive in the urban environment.
Presentation Detail:
Life in the Urban Environment for Border Collies can elicit frustration due to the limitations on their innate desire to control movement. Nurturing the desire and skill to control movement is key to restoring balance and having a fulfilled herding breed.
Urban herding or exercises for herding breeds is a conversation between a Border Collie and their Handler that encompasses many skills from working at distance, movement patterns to finding the balance point. The activities will allow you to work with your dogs inherited behaviours. The perfect games for those that do not have access to sheep!
Price: APBC members £12.50 ABTC members £25 Non-members £35
The recording will be available straight after purchase. You will also receive a link direct to the webinar replay in the purchase confirmation email.
Please note: APBC and SPEAKERS CANNOT BE HELD RESPONSIBLE FOR ANY TECHNICAL FAILING IN THE RESULTING RECORDING. Purchases of webinar recordings are not refundable.
We kindly remind all attendees that the links provided for this event are intended for their personal use only. Sharing these links with others is not permitted and may result in the attendee losing access to the recording. We appreciate your cooperation in respecting these guidelines, which are in place to ensure the best possible experience for all participants.
Time

Year Around Event (2023)
Organiser
THE ASSOCIATION OF PET BEHAVIOUR COUNSELLORS LTD is a company registered in England and Wales with company number 09075813, VAT number 366417775
info@apbc.org.uk
50 Princes Street, Ipswich, IP1 1RJ