Linking Equine Nutrition and Behaviour Through the Gut-Brain Axis
Linking Equine Nutrition and Behaviour Through the Gut-Brain AxisShirley Ferber Msc AMRSB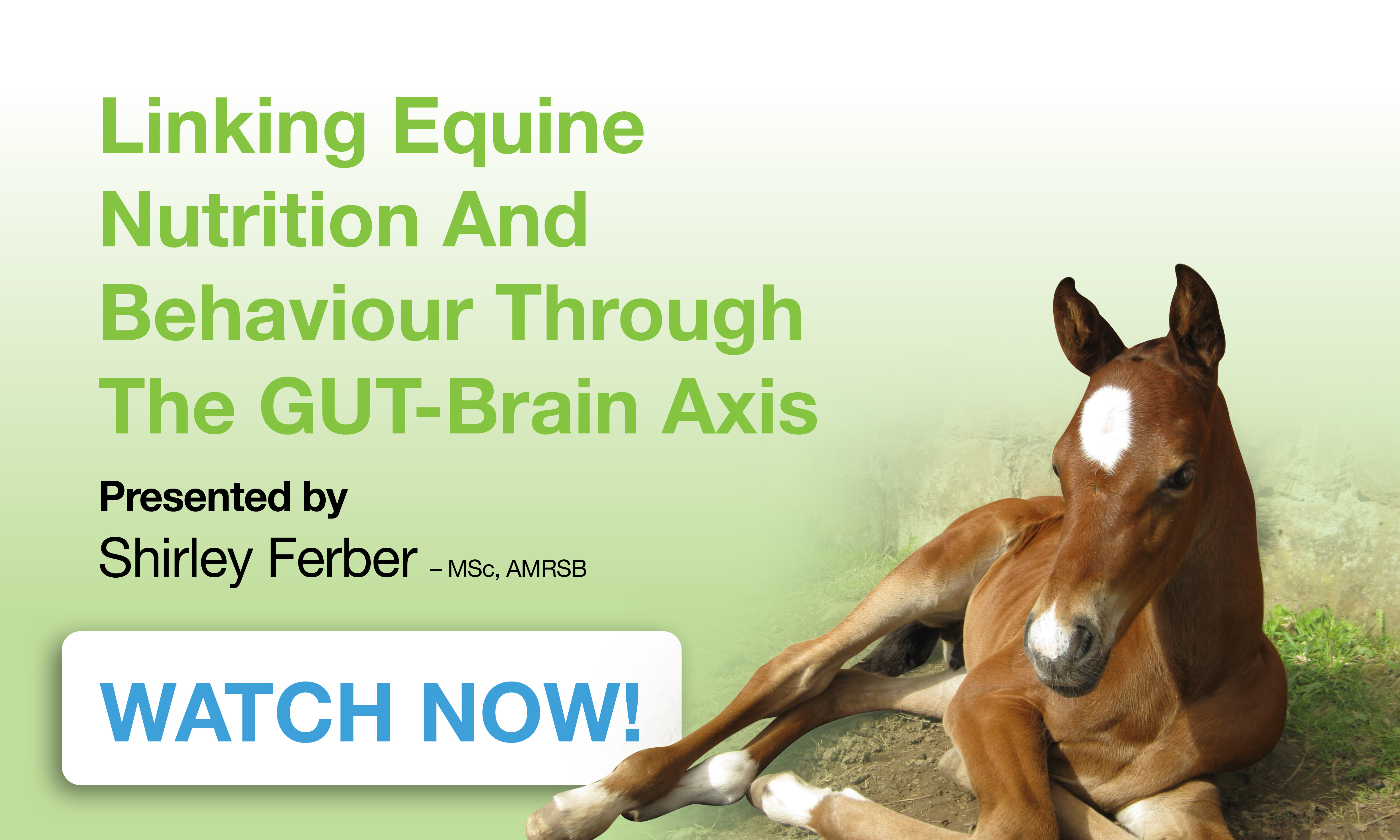 Event Details

Original Air Date: 12th January 2023

Presenter Bio:
Shirley has an MSc in Equine Science from The University of Edinburgh, with a focus on equine nutrition, behaviour and welfare. She lives in Israel, where she works as an independent equine nutritionist, the first in her country. Shirley is the founder of the EQUIDA platform, aimed to make evidence-based knowledge regarding equine health and welfare more accessible in Hebrew and Arabic. And also works as a translation manager and lecturer for the ANIVADO international equine nutrition education platform. Shirley is a passionate lecturer and determined scientist, hoping to contribute to the improvement of animal welfare through scientific knowledge and tools.
Shirley has presented her research in ESVCN 2020 and BEVA 2021, on the nutrition and feeding management of horses in Israel, with an emphasis on the effects of arid climates on health and welfare. She is a member of the Royal Society of Biology (MRSB) and an associate fellow of Advance Higher Education (AFHEA) and is always excited to teach as well as learn. Shirley has recently joined the APBC as an Academic Member and sees the integration of animal nutrition, behaviour and welfare as a natural and inevitable consequence of life.
Presentation Detail:
The Microbiome and Gut-Brain axis have been the focus of exciting new research of both humans and animals. While the neurological connection between the digestive system and the Central Nervous System (CNS) is direct and well-researched, the consequent link between nutrition and behaviour is not always as clearly identified. The different signals involved in the bilateral effects on nutrition and behaviour are especially prominent with equids such as horses and donkeys. Due to their social herbivorous nature and unique process of domestication. This presentation will review recent studies on the gut-brain axis and equine microbiome, as well as discuss the principal connections and implications between nutrition and behaviour in horses.
Price: APBC members £12.50 ABTC members £25 Non-members £35
The recording will be available straight after purchase. You will also receive a link direct to the webinar replay in the purchase confirmation email.
Please note: APBC and SPEAKERS CANNOT BE HELD RESPONSIBLE FOR ANY TECHNICAL FAILING IN THE RESULTING RECORDING. Purchases of webinar recordings are not refundable.
Time

Year Around Event (2023)
Organiser
THE ASSOCIATION OF PET BEHAVIOUR COUNSELLORS LTD is a company registered in England and Wales with company number 09075813, VAT number 366417775
info@apbc.org.uk
50 Princes Street, Ipswich, IP1 1RJ