Parrots: Train or Tame?
Parrots: Train or Tame?Elaine Henley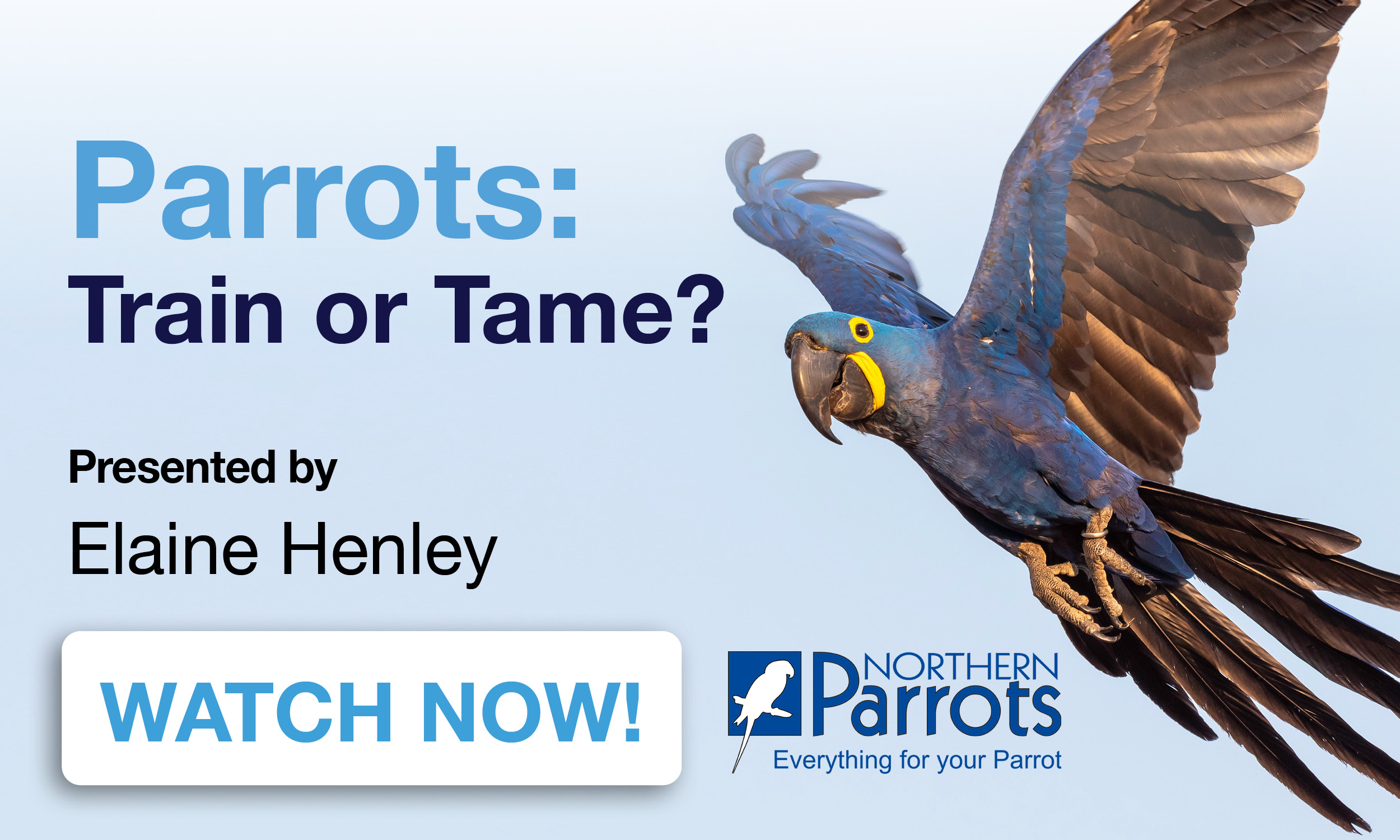 Event Details

Original Air Date: 24th January 2022

Presenter Bio : Elaine Henley is a Clinical Animal Behaviourist who has been working with humans and their pets for well over 20 years.
Along with her dogs and human family, Elaine lives with two Grey parrots: Milo who has lived with her for 12 years; Roy, a 34-year old Congo Grey parrot, joined her 8 years ago; and Sparky is a 12-year-old rehomed Timneh Grey parrot who has lived with her for 7 years.
Elaine feels privileged to share her home with three of these magnificent creatures, and she is one of very few Clinical Behaviourists to have studied them in the wild. This has given her a much deeper understanding of their behaviour in the domestic context, and Elaine is passionate about educating people in their behaviour and welfare.
Trained to Post-Graduate level in Companion Animal Behaviour Counselling at the University of Southampton, Elaine attends conferences and seminars worldwide to share ideas and lead on best practice across the industry.
Elaine is skilled in applying modern, hands-on training methods and, critically, in demonstrating and explaining those techniques to owners. She has written and lectured extensively on animal behaviour and training and she offers a range of Continuous Professional Development opportunities to veterinary practices, local and national governments, independent CPD providers, re-homing organisations and charities, including Guide Dogs for the Blind and The People's Dispensary for Sick Animals (PDSA). Elaine is also an experienced Expert Witness for courts and animal welfare organisations; she undertakes risk assessments for adoption and fostering agencies across Scotland.
Presentation Information *
This webinar will explore common behavioural problems that are often experienced by caregivers who live with Parrots in their home.
Debunking the myth that behavioural problems can simply be trained away, whilst exploring the use of behaviour modification techniques in combination with a dollop of common sense, this webinar aims to provide practical solutions for caregivers, professionals and veterinary teams.
The recording will be available straight after purchase. You will also receive a link direct to the webinar replay in the purchase confirmation email.
Please note: APBC and SPEAKERS CANNOT BE HELD RESPONSIBLE FOR ANY TECHNICAL FAILING IN THE RESULTING RECORDING. Purchases of webinar recordings are not refundable.
Time

Year Around Event (2022)
Organiser
THE ASSOCIATION OF PET BEHAVIOUR COUNSELLORS LTD is a company registered in England and Wales with company number 09075813, VAT number 366417775
info@apbc.org.uk
50 Princes Street, Ipswich, IP1 1RJ