"But My Dog's Not Food-motivated"
"But My Dog's Not Food-motivated"Kathy Sdao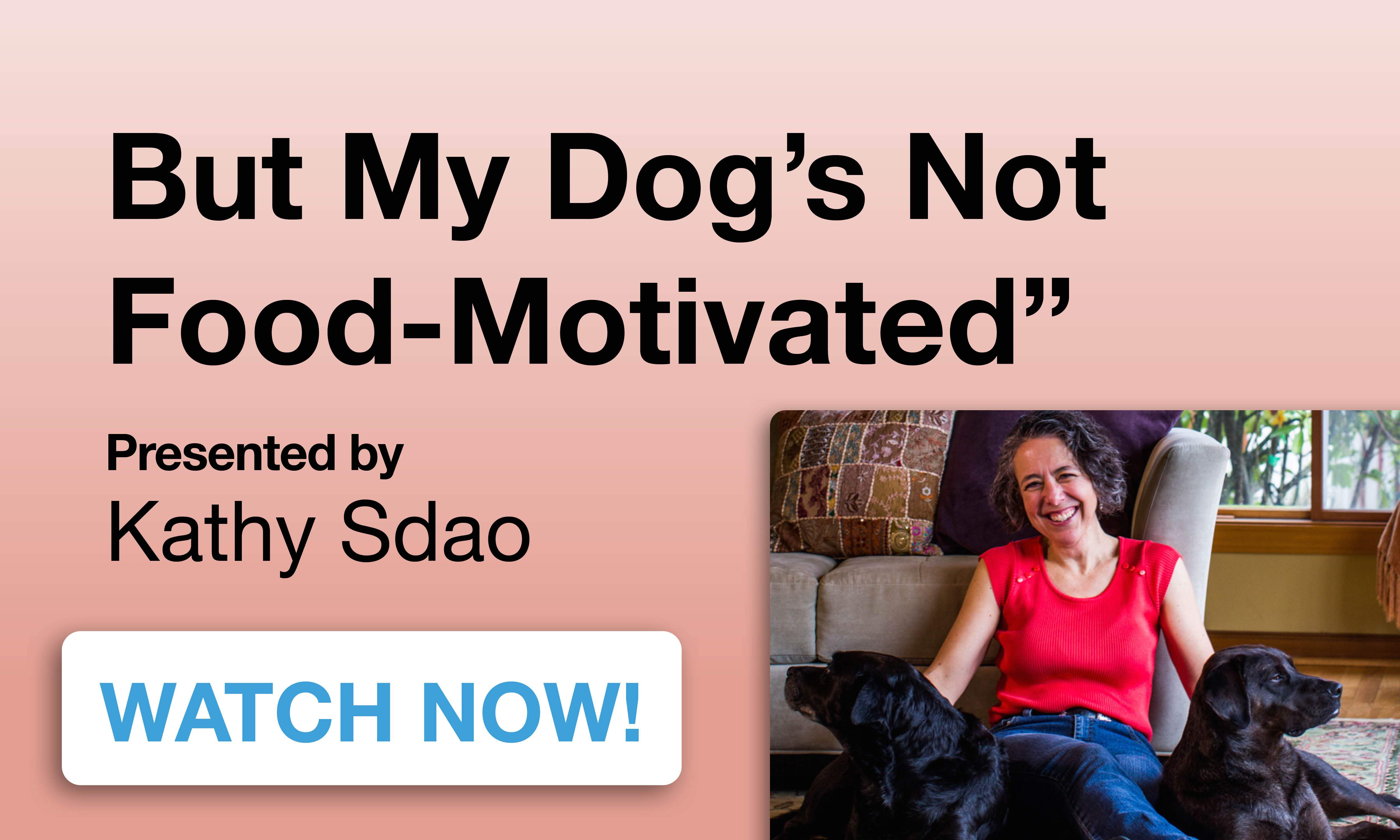 Event Details

Originally Broadcast on 17th December 2020

Presented by Kathy Sdao
Kathy Sdao is an applied animal behaviorist. She's been a full-time animal trainer for thirty-five years, first with marine mammals and now with dogs and their people. At the University of Hawaii, she received a master's degree as part of a research team which trained dolphins to understand sign-language. She then worked for the United States Navy to train dolphins for open-ocean military tasks. Kathy also worked as a marine-mammal trainer at the Point Defiance Zoo & Aquarium in Tacoma Washington. After leaving the zoo world, she co-created Tacoma's first dog daycare. Kathy launched Bright Spot Dog Training in 1998. Services include consulting with families about their challenging dogs and mentoring professional trainers who want to maximize the power of positive-reinforcement training. Kathy is proud to be an original faculty member for Karen Pryor's ClickerExpos; she's taught at thirty-nine of these popular conferences. Kathy has also lectured at venues across the United States, Canada and Europe, and in Australia, Israel, Japan and Mexico. In 2012, she published her first book, Plenty in Life Is Free: Reflections on Dogs, Training and Finding Grace.
When a client says this during our initial consultation, my response is "He's not food-motivated yet." Eating is an operant behavior. We can often increase its probability and intensity and lessen its latency through structured training procedures. Developing fluent eating might seem laughable if you have a ravenous Rottweiler or always-hungry hound, And yet, situations requiring skilled intervention abound: a senior dog whose appetite is fading; a wary dog who has learned to distrust treats; a pampered dog fussy about meals. While various medical conditions may contribute to the creation of a finicky eater, so can unwise behavioral practices. We'll review several common mistakes and provide alternatives, including use of The Premack Principle.
AFTER PAYMENT YOU WILL BE REDIRECTED TO THE REPLAY.
Please note: APBC and SPEAKERS CANNOT BE HELD RESPONSIBLE FOR ANY TECHNICAL FAILING IN THE RESULTING RECORDING. Purchases of live broadcast or recording are not refundable.
Time

Year Around Event (2022)
Organiser
THE ASSOCIATION OF PET BEHAVIOUR COUNSELLORS LTD is a company registered in England and Wales with company number 09075813, VAT number 366417775
info@apbc.org.uk
50 Princes Street, Ipswich, IP1 1RJ