Repairing the brain before we retrain: how to ensure the horse is ready for new learning
Repairing the brain before we retrain: how to ensure the horse is ready for new learningDr Amber Batson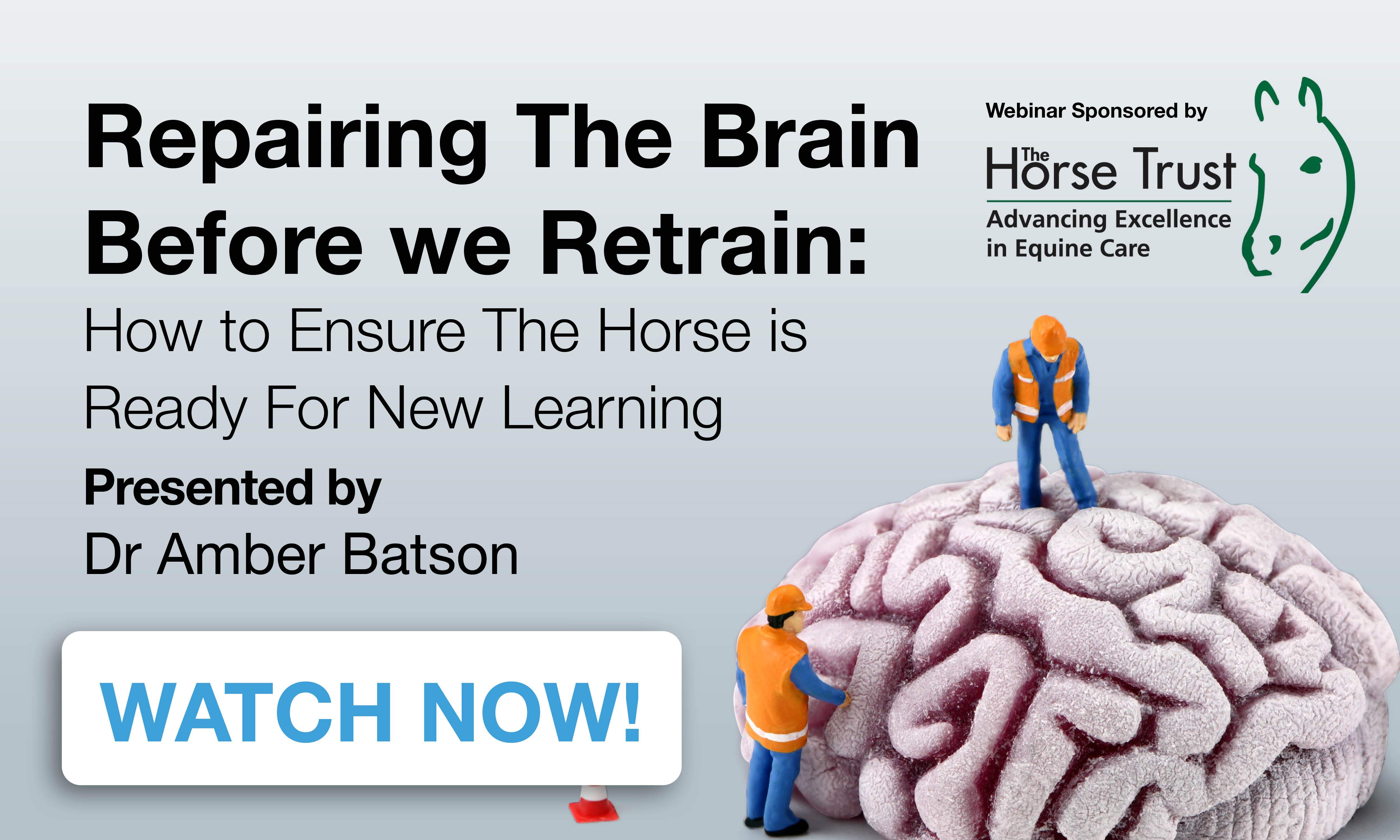 Event Details

Original air date 2nd March 2021
Presenter Bio:
Amber graduated from the Royal Veterinary College in 1999 and started additional behaviour qualifications the following year as she recognised how many of her consultations involved elements of behaviour. Today Amber works in both clinical veterinary practice, offers vet behaviour consults, teaches behaviour and welfare internationally and works as an expert witness.
Her goal is to provide scientifically up to date information in a practical, understandable way to both animal professionals and owners / caregivers to help improve the quality of the relationship between people and pets / livestock.
Presentation Detail: This webinar will look at what typically has happened to the body and brain of the equine with recent or historical, physical or psychological trauma. We will then look at practical ways of ensuring that the brain is ready for new learning regards stimuli that have emotional significance as the result of these previous negative experiences. An emphasis will be on combining environmental factors with handling/ training experiences before reintroducing known emotion inducing stimuli and how and why this can be so effective.
The recording will be available straight after purchase. You will also receive a link direct to the webinar replay in the purchase confirmation email.
Please note: APBC and SPEAKERS CANNOT BE HELD RESPONSIBLE FOR ANY TECHNICAL FAILING IN THE RESULTING RECORDING. Purchases of webinar recordings are not refundable.
Time

Year Around Event (2022)
Organiser
THE ASSOCIATION OF PET BEHAVIOUR COUNSELLORS LTD is a company registered in England and Wales with company number 09075813, VAT number 366417775
info@apbc.org.uk
50 Princes Street, Ipswich, IP1 1RJ