Scentwork Solutions for Abnormal & Repetitive Behaviours, Fears & Phobias
Scentwork Solutions for Abnormal & Repetitive Behaviours, Fears & PhobiasMorag Heirs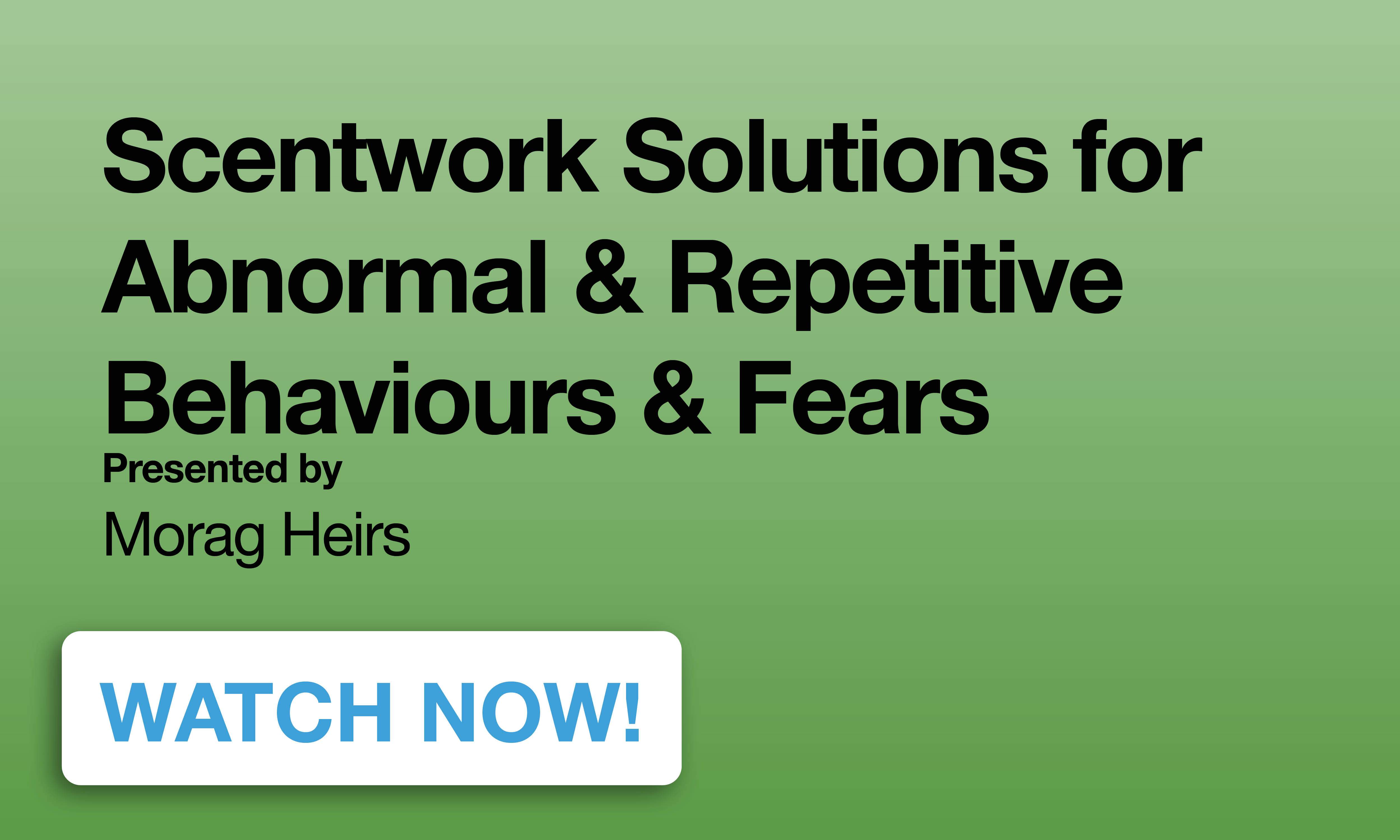 Event Details

Originally aired on 15th September 2020


Scentwork Solutions for Abnormal & Repetitive Behaviours, Fears & Phobias; understanding how scentwork can help in complex behaviour cases
Presented by: Morag Heirs
Scentwork has taken off across the world as a fun activity to share with your dog, and there are a whole range of methods and approaches. While some methods concentrate on competition, there's increasing interest in the use of scentwork and nose games within behaviour modification programmes.
Using a mixture of case studies and video we will explore how scentwork can play a key role in behaviour modification for a range of complex presenting problems in dogs including abnormal and repetitive behaviours and fear.
Bio
Morag Heirs PhD, Clinical Animal Behaviourist
Well Connected Canine Ltd http://www.wellconnectedcanine.co.uk
I build better relationships between troubled dogs and their humans, and I've been working as a canine behaviourist for over 12 years now. Playing scentwork games with my own dogs, as well as with my clients, was life changing. I was fortunate to be an Accredited TD Scentwork Trainer (2014-2017) and have introduced hundreds of dogs to the joy of sniffing.
Scentwork is one of my favourite tools when it comes to creating an effective training plan or behaviour modification programme, and I can't wait to share the magic with you!
The webinar recording will be available straight after purchase. You will also receive a link direct to the webinar replay in the purchase confirmation email.
Please note: APBC and SPEAKERS CANNOT BE HELD RESPONSIBLE FOR ANY TECHNICAL FAILING IN THE RESULTING RECORDING. Purchases of live broadcast or recording are not refundable.
Time

Year Around Event (2022)
Organiser
THE ASSOCIATION OF PET BEHAVIOUR COUNSELLORS LTD is a company registered in England and Wales with company number 09075813, VAT number 366417775
info@apbc.org.uk
50 Princes Street, Ipswich, IP1 1RJ