Social pain in dogs
Social pain in dogsDr Frank McMillian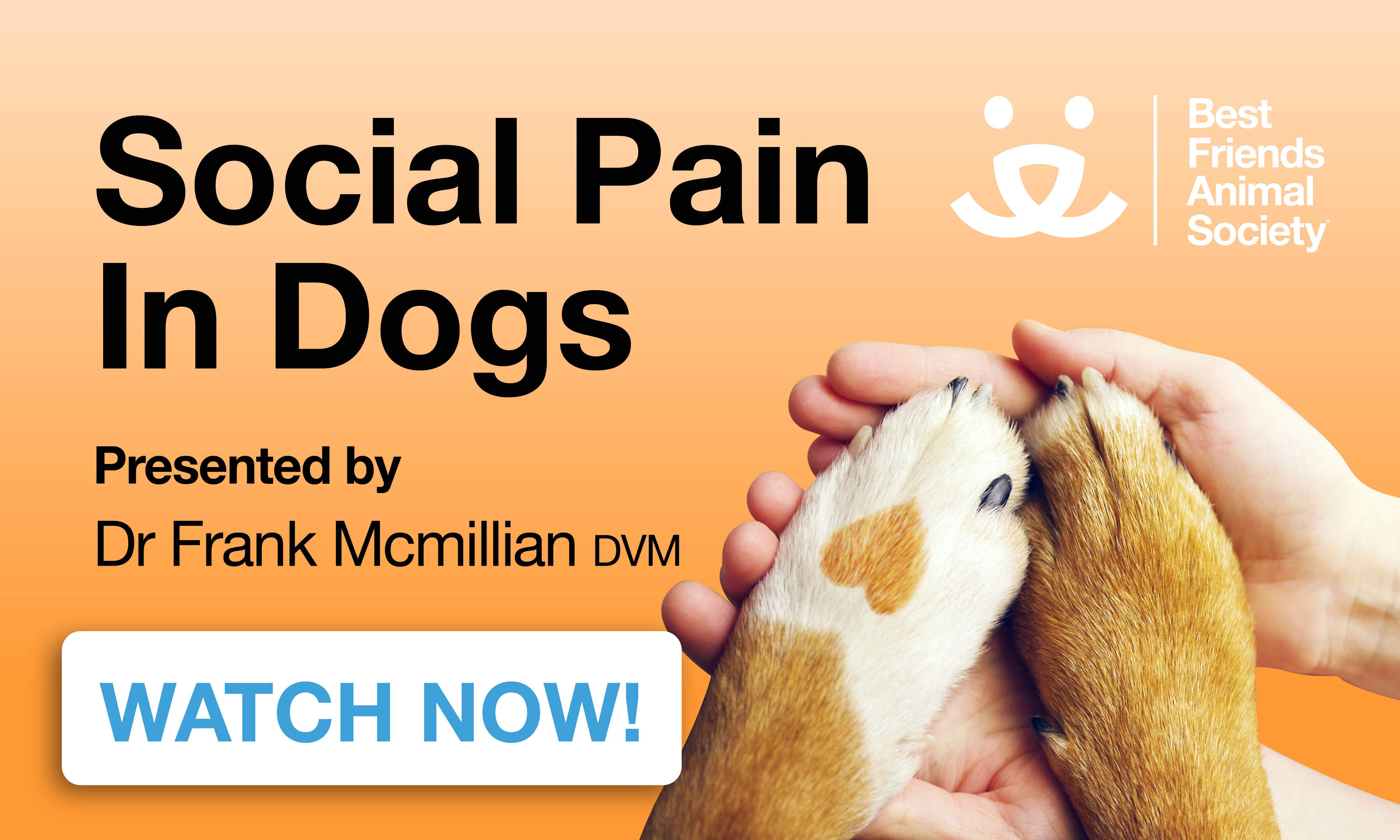 Event Details

Originally Broadcast on 22nd September 2020

Presented by Dr Frank McMillian
Franklin D. McMillan, DVM, served as the director of well-being studies at Best Friends Animal Society from 2007 to 2020. In that role, his studies included the quality-of-life and the mental health and emotional well-being of animals who have endured hardship,
adversity and psychological trauma. At Best Friends he has published in scientific journals the first studies of dogs rescued from puppy mills, hoarding situations, and abusive environments. In addition, he has published the most extensive reports of the psychological health of puppies born in puppy mills and sold through pet stores or over the Internet. The goals of all of these studies is to better understand the effects of trauma on animals and to develop new therapies to restore to them a life of enjoyment rather than having a life filled with fear and emotional distress as well as provide the science to support better animal protective legislation and improvements in the way animals are treated all around the world. Before coming to Best Friends, he was in private practice for 23 years as well as clinical professor of medicine at the Western University of Health Sciences College of Veterinary Medicine. Dr. McMillan is board-certified in the veterinary specialties of small animal internal medicine and animal welfare. He lectures worldwide and is the author of the textbook Mental Health and Well-Being in Animals and a book for the general public titled Unlocking the Animal Mind.
Social Pain in Dogs
The experience of unpleasant emotions is often referred to as "emotional pain", such as when someone loses a loved one. The emotions that arise when one's social bonds with another are impaired or lost – such as feelings of isolation, loneliness, and rejection – comprise one type of emotional pain, called "social pain". Recent research has found that the term "pain" is not just a metaphor, but is based on the finding that social pain is
processed in the same brain regions where physical pain is processed. In addition, similar drugs can alleviate both physical and social pain. For social species, like elephants, horses, sheep, rats, guinea pigs, dogs, and humans, social pain plays a
powerful role in one's well-being and quality of life. For today's domestic dog, the issue may be of greater importance than for any other species on Earth. Evidence indicates that through domestication the emotional bonding propensity of dogs toward humans has been greatly amplified, which appears to have resulted in both greater joy for dogs when in the company of humans, but also greater suffering when denied human companionship. Only by educating all those who care for dogs will "man's best friend" receive the care they so strongly deserve.
The webinar recording will be available straight after purchase. You will also receive a link direct to the webinar replay in the purchase confirmation email.
Please note: APBC and SPEAKERS CANNOT BE HELD RESPONSIBLE FOR ANY TECHNICAL FAILING IN THE RESULTING RECORDING. Purchases of live broadcast or recording are not refundable.
Time

Year Around Event (2022)
Organiser
THE ASSOCIATION OF PET BEHAVIOUR COUNSELLORS LTD is a company registered in England and Wales with company number 09075813, VAT number 366417775
info@apbc.org.uk
50 Princes Street, Ipswich, IP1 1RJ