Increasing Welfare through Enrichment – A look at the science
Increasing Welfare through Enrichment – A look at the scienceKristina Spaulding, PhD, CAAB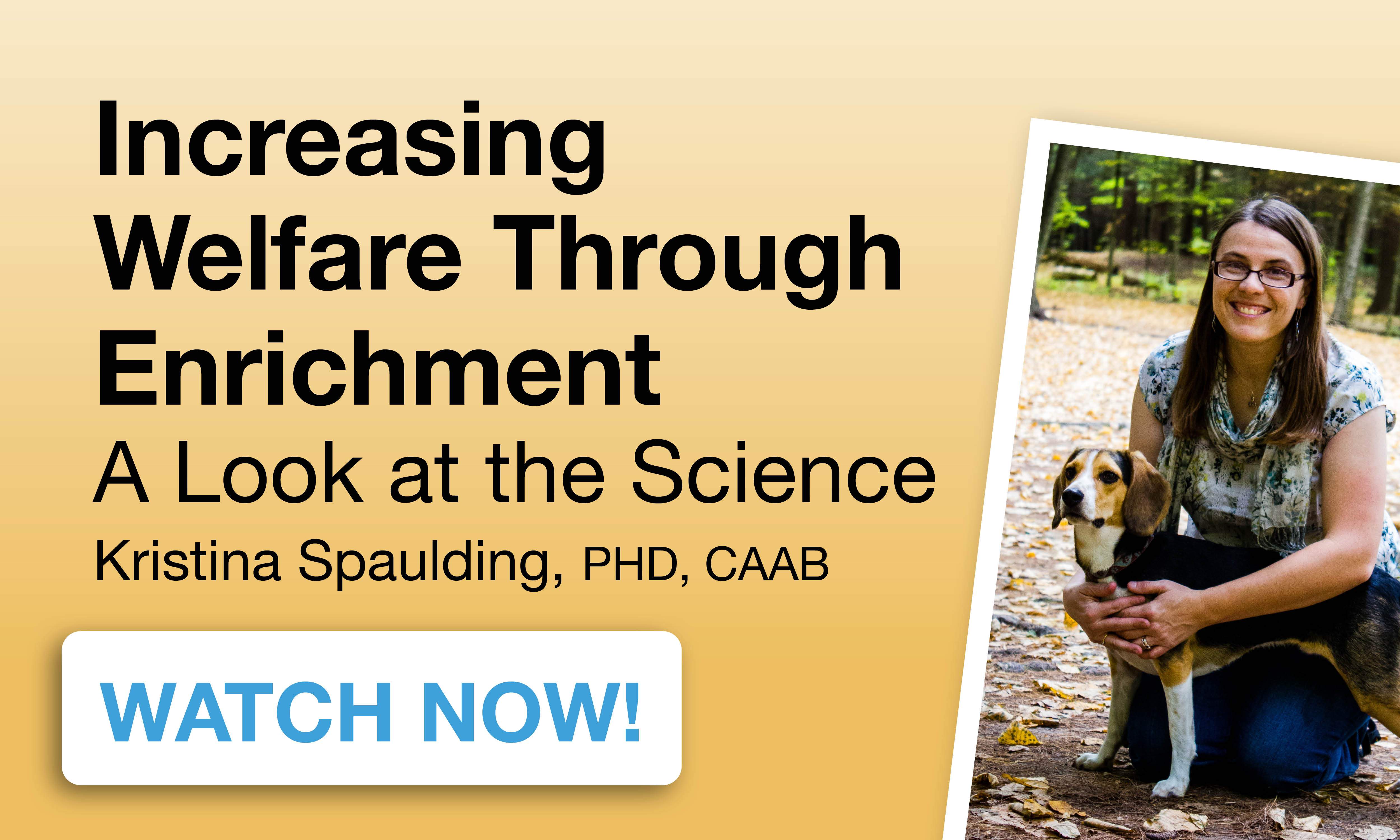 Event Details


Original air date 13th November 2020
Presented by Kristina Spaulding, PhD, CAAB
Dr. Spaulding has been in the dog training and
behavior profession since 1999. She has a PhD in
biopsychology—the study of the biological basis of
behavior—and is a Certified Applied Animal
Behaviorist through the Animal Behavior Society.
She is particularly interested in stress,
neurobiology, cognition, emotion, and wellbeing
and how to apply these concepts to the prevention
and early intervention of behavior problems in dogs.
In addition to working with behavior clients,
Dr. Spaulding teaches a variety of online
courses and webinars on the science of
behavior.
In 2019, Dr. Spaulding received the
Association of Professional Dog Trainer's (APDT's) Member of the Year Award. She
serves on the APDT Education Committee, the
IAABC Foundation Board, the Fear Free
Advisory group and the Quality of Care task
force facilitated by Fear Free.
Before opening Smart Dog, Dr. Spaulding earned
her B.S. in Wildlife Ecology at the University of
Wisconsin – Madison. In college, she worked for
the local humane society for several years. She also
served as an assistant trainer at Dog's Best Friend
which was owned at that time by Dr. Patricia
McConnell.
We know that enrichment benefits dogs. Taking a look
into the science provides many additional, illuminating
insights. This talk will cover:
 How we can make our animals more optimistic
 How to provide appropriate challenge to
maximize the effectiveness of enrichment
 How enrichment can improve a dog's ability to
cope with stress
The webinar recording will be available straight after purchase. You will also receive a link direct to the webinar replay in the purchase confirmation email.
Please note: APBC and SPEAKERS CANNOT BE HELD RESPONSIBLE FOR ANY TECHNICAL FAILING IN THE RESULTING RECORDING. Purchases of live broadcast or recording are not refundable.
Time

Year Around Event (2022)
Organiser
THE ASSOCIATION OF PET BEHAVIOUR COUNSELLORS LTD is a company registered in England and Wales with company number 09075813, VAT number 366417775
info@apbc.org.uk
50 Princes Street, Ipswich, IP1 1RJ