Success With Clients! Part one – rejuvenate your client reports/handouts, and follow-up strategy
Success With Clients! Part one – rejuvenate your client reports/handouts, and follow-up strategySara Davies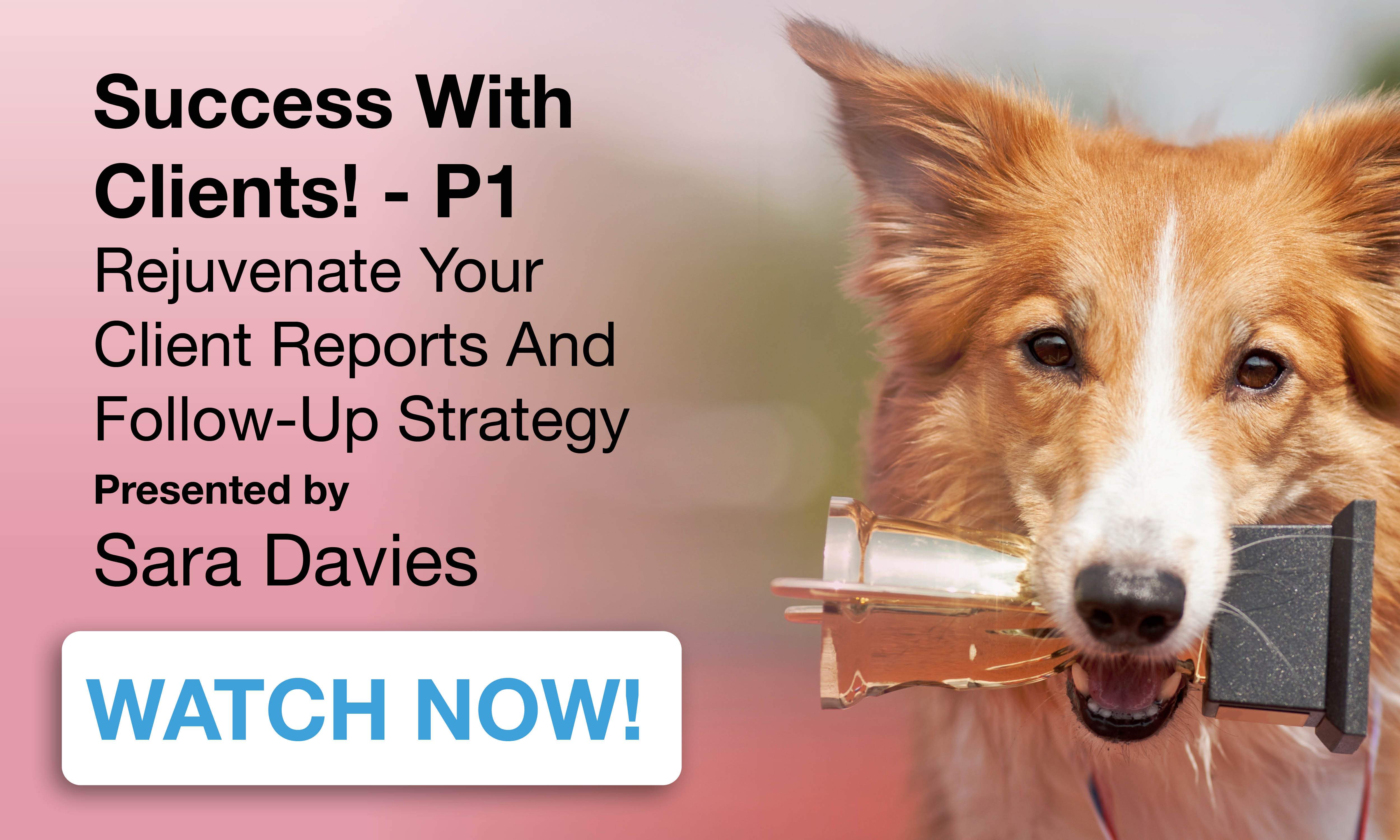 Event Details

Originally Aired: 12th May 2021
Presenter Bio:
Sara is a registered veterinary surgeon who spent nine years in small animal practice before switching to pet behaviour and training where she has worked for the last 18 years. In addition to her degree in Veterinary Medicine and Surgery, she is an honour graduate of Jean Donaldson's Academy for Dog Trainers, and has a City & Guilds qualification in teaching adult learners. She is a full member of the APBC, and an ABTC registered veterinary behaviourist and clinical animal behaviourist. She is a committed reward-based trainer with a keen interest in both the welfare of the pet and the comfort of the client.
Presentation Detail:
Good communication is key to success with clients. Inevitably, this involves a written document such as a report or handout. They are tedious and time-consuming to prepare and may go unread by the very person they are supposed to help! Sara will present some innovative ways to rejuvenate these tired resources to make them fit for purpose and less painful to construct! During the follow-up period, you may get the 'it's not working' message from the client. The answer to this lies in persuading the client to do what you have already recommended, not looking for new or obscure treatment approaches. Sara will cover how to identify and deal with this problem and keep the client motivated. Sara will mostly be talking about dogs, but the information will be equally relevant to other species and those running classes.
The recording will be available straight after purchase. You will also receive a link direct to the webinar replay in the purchase confirmation email.
Please note: APBC and SPEAKERS CANNOT BE HELD RESPONSIBLE FOR ANY TECHNICAL FAILING IN THE RESULTING RECORDING. Purchases of webinar recordings are not refundable.
Time

Year Around Event (2022)
Organiser
THE ASSOCIATION OF PET BEHAVIOUR COUNSELLORS LTD is a company registered in England and Wales with company number 09075813, VAT number 366417775
info@apbc.org.uk
50 Princes Street, Ipswich, IP1 1RJ