The bear necessities of training
The bear necessities of trainingCindy Peacock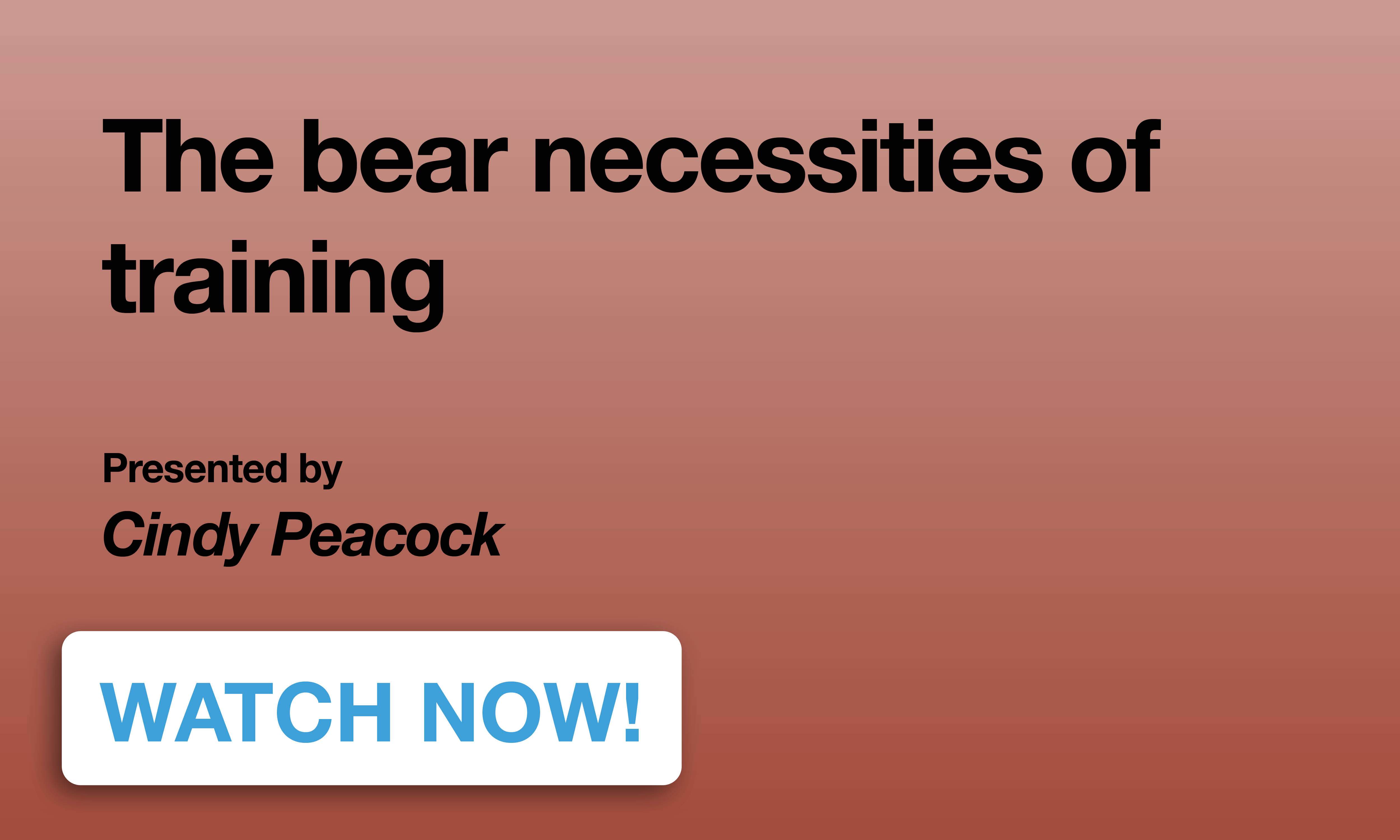 Event Details


Originally broadcast on 21st May 2020
The bear necessities of training; what training Boo the Grizzly Bear can teach us about training
Presented by: Cindy Peacock
When training animals is important to not only understand how to teach the animal, but we need to understand the needs of the species and the individual to. By doing this we can get the most out of the time we have with them and build some incredible relationships. Join Cindy as she takes us on her journey training Boo the Grizzly Bear.
Presenter Bio:
Cindy is a Karen Pryor Academy Certified Training Partner (KPA CTP) and has served as Apprentice for the Calgary Humane Society, teaching behaviour classes and working on assessments of incoming animals. She is a Certified Professional Dog Trainer (CPDT KA) and has countless hours of first-hand experience working with almost every conceivable behavioral situation.
Cindy is the Lead Trainer at the Kicking Horse Grizzly Refuge and volunteers extensively with organizations including the Animal Rescue Foundations of Alberta and Ontario (ARF), the Calgary Humane Society, Halo Husky Haven, MEOW Foundation, Calgary Wildlife Rehabilitation Society, and the Global Animal Lovers Society.
The recording will be available straight after purchase. You will also receive a link direct to the webinar replay in the purchase confirmation email.
Please note: APBC and SPEAKERS CANNOT BE HELD RESPONSIBLE FOR ANY TECHNICAL FAILING IN THE RESULTING RECORDING. Purchases of webinar recordings are not refundable.
Time

Year Around Event (2022) GMT
Organiser
THE ASSOCIATION OF PET BEHAVIOUR COUNSELLORS LTD is a company registered in England and Wales with company number 09075813, VAT number 366417775
info@apbc.org.uk
50 Princes Street, Ipswich, IP1 1RJ