The Nuances of Social Rehabilitation Training
wed06dec8:00 pmwed9:30 pmThe Nuances of Social Rehabilitation TrainingRoz Pooley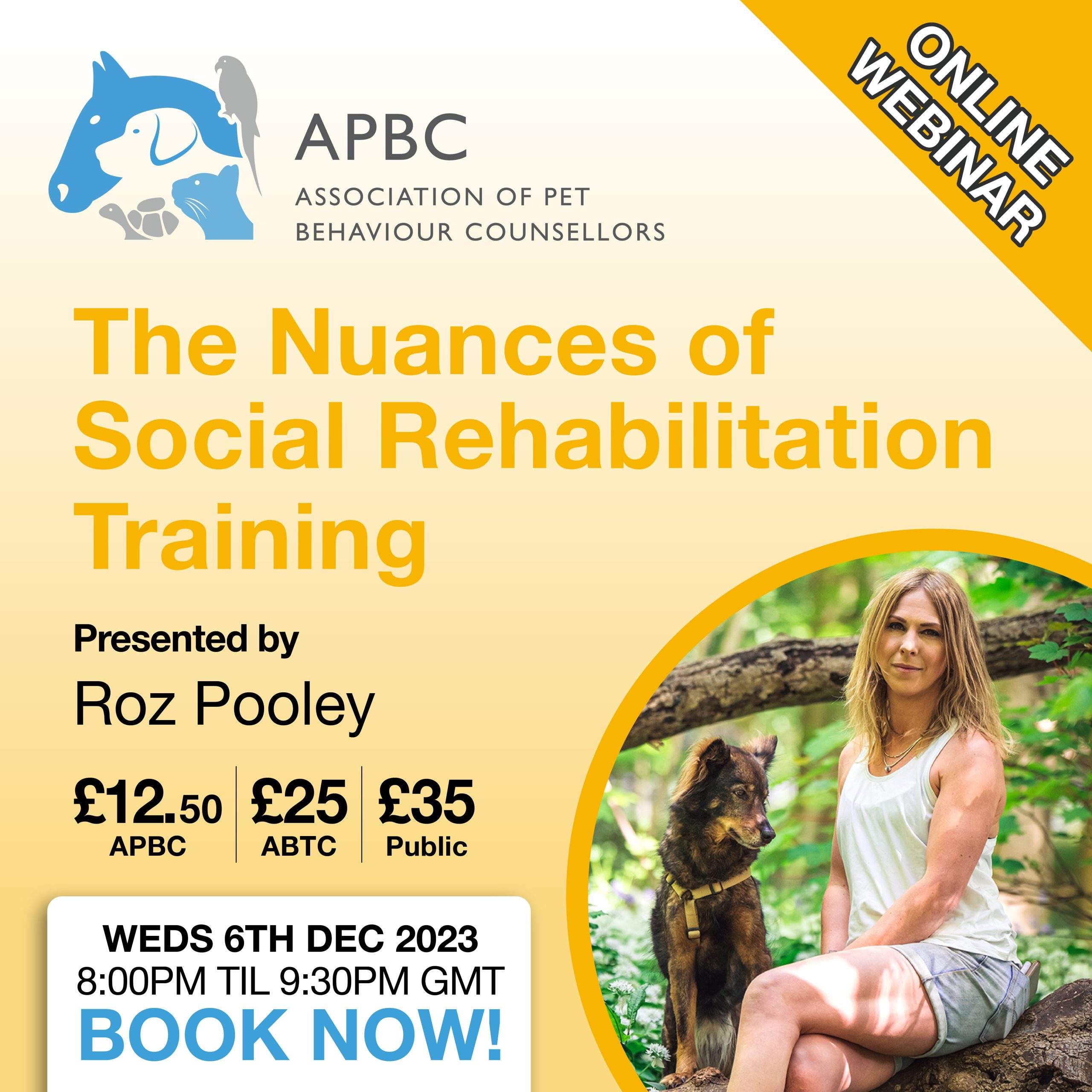 Event Details

Presenter Bio:
Roz Pooley is a full CAB member with the APBC and has a Master's Degree in Clinical Animal Behaviour. She has been working with dogs for 13 years and is well regarded for her knowledge on street dogs/overseas rescues.
She lives in Bristol, UK with 3 dogs, including a Border Collie and two overseas rescue dogs.
Presentation Details:
When is food helpful? When is it a hindrance?
Should we use toys as reinforcers in these contexts?
Can training cues hinder progress?
Is tension on the lead during encounters ALWAYS a big no, no?
Are lower-level reactions ALWAYS unhelpful?
Is it even possible to consistently achieve close encounters or first sniffs without an elevation in arousal or anxiety?
Are we seeing relaxed behaviour or are we seeing reduced motivation created through excessive repetition?
How should helper dogs behave on sessions?
When are helper dogs NOT helpful?
Should muzzles always be used?
ABC-type training protocols and fixed recipe interventions are sometimes essential in the early stages of behaviour modification. But, as cases progress, rigid protocols may limit the ability for dogs to reach their full potential.
To truly tailor-make advice, we need to be ready to think out of the box- which may involve slight deviation from the 'rules' we often find ourselves prescribing to and feeling anxious about breaking.
Roz has worked in social rehabilitation for over a decade. Across this time, her dogs have assisted her and her team on sessions, often becoming the first up-close social interaction that case has had in years. She also helps her owners learn how to safely navigate walks with their dogs and in many cases, reintegrate them back into society (albeit often on the outskirts, rather than the epicentre).
Price: APBC members £12.50 ABTC members £25 Non-members £35
Public webinars and live events will be recorded and a link sent to all registrants.
The APBC and Speakers cannot be held responsible for any technical failing in the recording
Purchases of products, events or the webinars either live or recorded are not refundable.
We kindly remind all attendees that the links provided for this event are intended for their personal use only. Sharing these links with others is not permitted and may result in the attendee losing access to the recording. We appreciate your cooperation in respecting these guidelines, which are in place to ensure the best possible experience for all participants.
Time

(Wednesday) 8:00 pm - 9:30 pm
Organiser
THE ASSOCIATION OF PET BEHAVIOUR COUNSELLORS LTD is a company registered in England and Wales with company number 09075813, VAT number 366417775
info@apbc.org.uk
50 Princes Street, Ipswich, IP1 1RJ