Understanding Animal Abuse
tue22nov8:00 pmsun9:30 pmUnderstanding Animal AbuseMaya Badham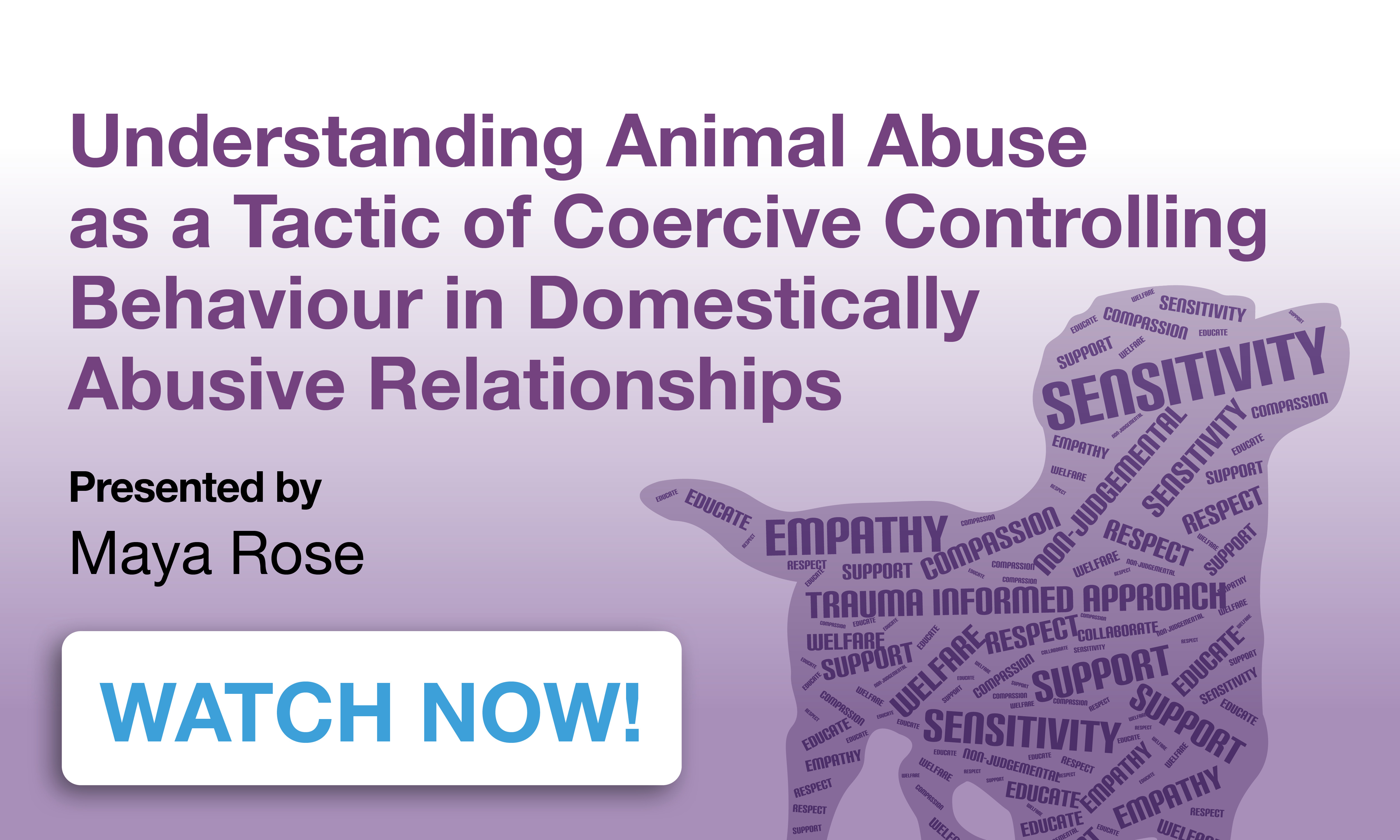 Event Details

Original Air Date: 22nd November 2022

Presenter Bio:
Maya has over a decade's experience working in the field of domestic and sexual abuse both academically and practically. She has a Master's of Law in Human Rights and is also both a qualified Independent Sexual Violence Advisor and Violence Against Women, Domestic Abuse and Sexual Violence Trainer. Maya spent several years working on the frontline supporting survivors of abuse emotionally through 1-2-1 support and as an advocate in statutory spaces; she is passionate about using a truly trauma informed approach and believes in the resilience and strength of both humans and animals to recover, adapt and grow post-abuse. In her current role as a trainer, she educates a variety of organisations on domestic abuse including both 3rd sector and statutory agencies.
Maya discovered that the skills she used with survivors of abuse such as empathy, compassion and a natural inclination to ask rather than tell, easily transferred over to working with animals when she got her dog in 2019. Since then, she has had the privilege of engaging with some of the best well-known names within canine behaviour and her comprehension of animal behaviour has grown exponentially. She has found that her knowledge of trauma responses and using a trauma informed approach has leant itself well to supporting her dog through adolescence and reactivity as well as being able to help pet professionals improve their engagement with survivors of trauma at both ends of the lead.
In addition, Maya also sits on the editorial boards of several organisations' training programmes looking at domestic abuse and the impact it has on both the human and animal victim survivor as well as trauma and dogs.
Presentation Detail:
Understanding Animal Abuse as a Tactic of Coercive Controlling Behaviour in Domestically Abusive Relationships
Content Warning for discussions of abuse which some may find triggering.
There has long been a clear and established connection between animal cruelty and domestic abuse. This webinar will raise awareness of domestic abuse dynamics, including spotting the signs in adults, children and pets; with an emphasis on how perpetrators exploit the companion animal human bond as a tactic of coercive control in order to maintain power and control over their victim survivors.
This webinar is Part 1 of a series on the issues surrounding companion animal neglect/cruelty and domestic abuse. Part 2 will air in February 2023 and will cover safeguarding in relation to domestic abuse for pet professionals.
Price: APBC members £12.50 ABTC members £25 Non-members £35
The recording will be available straight after purchase. You will also receive a link direct to the webinar replay in the purchase confirmation email.
Please note: APBC and SPEAKERS CANNOT BE HELD RESPONSIBLE FOR ANY TECHNICAL FAILING IN THE RESULTING RECORDING. Purchases of webinar recordings are not refundable.
Time

(Tuesday) 8:00 pm - 9:30 pm
Organiser
THE ASSOCIATION OF PET BEHAVIOUR COUNSELLORS LTD is a company registered in England and Wales with company number 09075813, VAT number 366417775
info@apbc.org.uk
50 Princes Street, Ipswich, IP1 1RJ