Understanding individual differences in dogs' behaviour and cognition to improve their lives
Understanding individual differences in dogs' behaviour and cognition to improve their livesDr Patrizia Piotti DVM MSc PhD MRCVS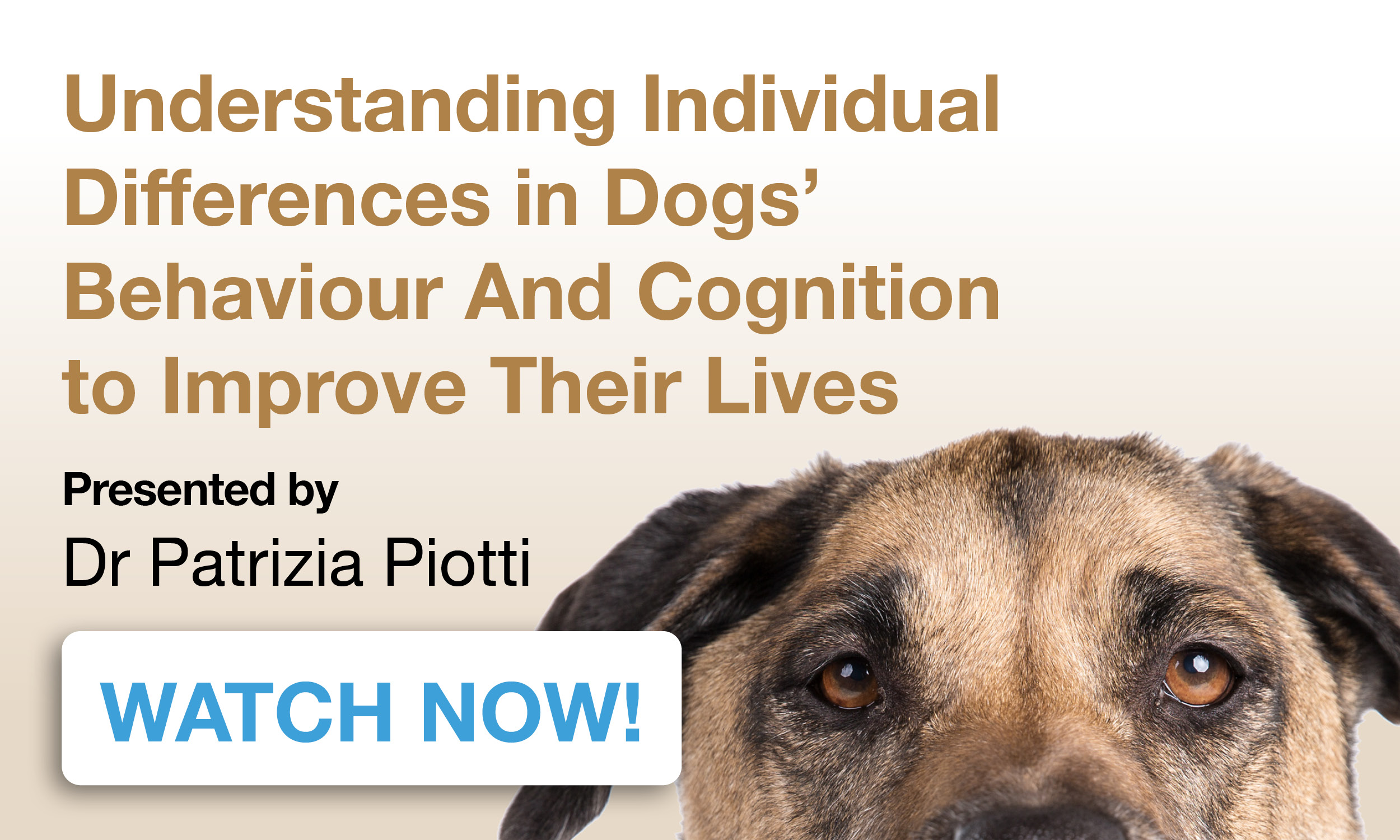 Event Details

Original Air Date: 30th November 2021

Presenter Bio: Dr Patrizia Piotti DVM MSc PhD MRCVS is a veterinarian specialised in clinical animal behaviour. Patrizia graduated in Veterinary Medicine at the University of Milan, in Italy, and holds a MSc in Clinical Animal Behaviour from the University of Lincoln and a PhD on canine cognition from the University of Portsmouth. She has worked as researcher at the Family Dog Project in Budapest. Currently she is working as post-doctoral researcher at the Department of Veterinary Medicine of the University of Milan in Italy and she is practicing as behaviourist in private practice. Her current interests are studying the link between cognition and personality to better understand behaviour problems and improve companion animals' quality of life across the lifespan.
Presentation Details:In the latest years, companion animal research has been focusing on the personality differences between individuals. Personality reflects the choices that dogs will make in a variety of situations, and personality traits shape the underlying motivation and emotional state of dogs when facing relevant triggers. However, it is possible to recognise individual differences also in canine cognition, or dogs' ability to interpret and understand the world. Cognitive traits contribute to the differences in areas that are fundamental to dog-human interactions, such as impulsivity, communication, and memory. Understanding how personality and cognition interact in shaping dogs' internal and external responses to events and circumstances, helps not only in predicting pet dogs' behaviour in various circumstances, but also in understanding the constraints and strengths of a behaviour modification plan.
The recording will be available straight after purchase. You will also receive a link direct to the webinar replay in the purchase confirmation email.
Please note: APBC and SPEAKERS CANNOT BE HELD RESPONSIBLE FOR ANY TECHNICAL FAILING IN THE RESULTING RECORDING. Purchases of webinar recordings are not refundable.
Time

Year Around Event (2022)
Organiser
THE ASSOCIATION OF PET BEHAVIOUR COUNSELLORS LTD is a company registered in England and Wales with company number 09075813, VAT number 366417775
info@apbc.org.uk
50 Princes Street, Ipswich, IP1 1RJ