As a Nation of animal lovers, does the Nation understand what Pet Bereavement means to us?
As a Nation of animal lovers, does the Nation understand what Pet Bereavement means to us?Diane James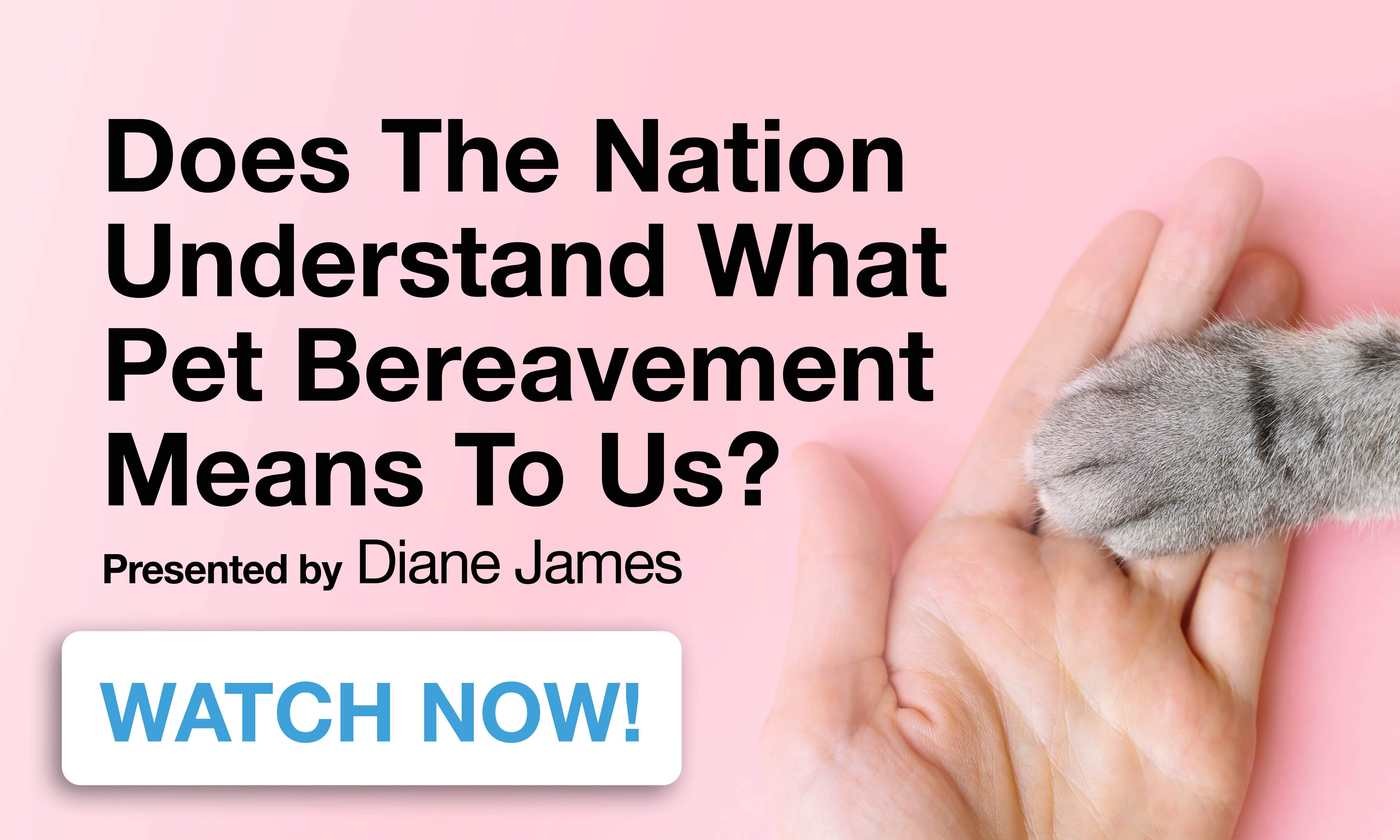 Event Details

Original Air date 18th March 2021
Presenter Bio:
Diane has worked at Blue Cross for 6 years in the Pet Bereavement Support Service, having a back ground of training, counselling, people and development, as well as a number of years in the Pet retail environment.
Having worked with human loss and having a love for animals, this is a vocation for Diane, it has always been her aim to make people realise the importance of animal loss, be it death, theft or separation, due to a number of reasons.
With over 14,000 calls and emails annually to the support service, Diane realised that educating professionals in the area of loss, was missing and the team now train and present to a large number of organisations, including vets, other charities and organisations. From this the Blue Cross Pet loss grief cycle was born, the service Is recognised as one of the leading providers of support and training in this area.
Diane is also involved in working with a number of Universities in the area of research and training, as she really wants the topic of loss to be seen as part of curriculums and as normal as any other topic.
Presentation Detail: The Presentation will look at the development of the Blue Cross Support Service in the last few years, how it has worked with the topic of Loss. The type of losses and grief that animal owners, workers and organisations have, including the effects of the most current losses during the pandemic. The Blue Cross Pet grief cycle and guilt being a large part of it as well as looking at the cycle and working with it. Working with clients, often the question of, "what can I say?", or "what should I not say?", is what people want to know and "Is it that simple?" Diane will also discuss after death body care and memorialisation and how it has evolved. Plus, the future on how will it look for Pet Bereavement, according to Diane.
This Webinar is sponsored by the Blue Cross
We're a charity that has been helping sick, injured, abandoned and homeless pets since 1897. Pets help us in so many ways and they depend entirely on us. That's why at Blue Cross we believe in helping pets because pets help us.
We help thousands of pets in need every month, providing veterinary care, expert behaviour help and find them loving happy homes, as well as advice and education for current or future pet owners and pet bereavement support. We develop lifelong relationships with pets and owners, providing quality care that is accessible and non-judgemental. With your support we can give back to more pets in need.
Pets change lives. We change theirs.
Pet Bereavement Support Service
We launched the Pet Bereavement Support Service over 27 years ago, in 1994, to help grieving pet owners. Since then we have helped thousands of pet owners of all ages and from all walks of life through our dedicated helpline and email service. Volunteers, who have all experienced the loss of a pet and have completed an in-depth bespoke training course on how to help you, respond to calls and emails every day. They offer a listening ear, guidance on coping and give time, patience and encouragement to pet owners as they work through their loss. The Pet Bereavement Support Service also offers practical information on pet loss for friends, family members and others who have contact with pet owners. We don't just deal with loss through death but also through enforced separation or theft too. Please don't hesitate to call us on 0800 096 6606 if you'd like to talk. Please note that due to the nature of the helpline and to keep your call confidential, we are unable to call you and cannot see your phone number if you call us or you can Email us at pbssmail@bluecross.org.uk and we'll respond within 48 hours. https://www.bluecross.org.uk/pet-bereavement-and-pet-loss
PBSS Training –through our vast experience we have developed award-winning, RCVS endorsed training for vet teams and pet professionals helping people to feel empowered and confident in this crucial area when working with distress owners and clients. We have a range of training e-learning and virtual training options that range from 2 hours short course, virtual workshop days to our full in-depth accredited certificate in Pet Bereavement and Loss. For more information or to book on any of our courses visit https://www.bluecross.org.uk/cpd-courses-for-pet-professionals
Finally, we are hugely proud of our volunteers as without them we just couldn't achieve the amazing support and work we do everyday. It takes something special to be a PBSS Volunteer and we are always delighted to welcome new volunteers who find the call or email support work so rewarding. If you are interested in our home-based PBSS volunteering roles or would like more information click here https://www.bluecross.org.uk/volunteer-our-pet-bereavement-support-service
The recording will be available straight after purchase. You will also receive a link direct to the webinar replay in the purchase confirmation email.
Please note: APBC and SPEAKERS CANNOT BE HELD RESPONSIBLE FOR ANY TECHNICAL FAILING IN THE RESULTING RECORDING. Purchases of webinar recordings are not refundable.
Time

Year Around Event (2022)
Organiser
THE ASSOCIATION OF PET BEHAVIOUR COUNSELLORS LTD is a company registered in England and Wales with company number 09075813, VAT number 366417775
info@apbc.org.uk
50 Princes Street, Ipswich, IP1 1RJ